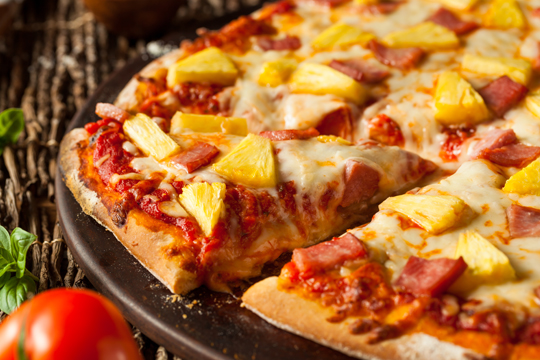 Spicy Hawaiian Pizza
Servings:
Makes one pizza
The sweet and salty combination of pineapple and chorizo makes this play on the Hawaiian pizza one that even the naysayers out there can't resist. Extra chorizo can be wrapped well and frozen for up to 6 months.
Ingredients:
8 to 10 ounces (225 to 283 g) prepared pizza dough, room temperature for at least 1 hour
Semolina or unbleached all-purpose flour, for dusting
3 tablespoons (45 ml) Simple Pizza Sauce
1/2 cup (125 ml) shredded mozzarella
½ spear fresh pineapple, sliced (about 1/8 of a small to medium fruit)
½ link cooked chorizo, thinly sliced
* Note: Cooked chorizo links are available in the meat section of grocery stores. Cured chorizo can be substituted, but the flavour isn't as strong.
Directions:
Preheat the pizza oven with the pizza stone on the rack to 650°F (343°C).
Stretch the pizza dough to a 10 to 12-inch (25 to 30 cm) round.
Transfer the dough to a pizza peel generously dusted with flour.
Top the dough round with the sauce, leaving a 1-inch (2.5 cm) border, then sprinkle with the cheese. Finish with the pineapple and chorizo slices.
Gently shimmy the pizza on the peel to ensure it isn't sticking. If the dough is sticking, gently lift the dough and spread additional flour underneath.
Set the timer for 5 minutes. Slide the pizza off the peel and onto the pizza stone. Start the timer.
When the timer sounds, check the pizza. If baked to desired doneness, use the peel to remove the pizza from the oven, or bake for 1 to 2 more minutes. Slide the pizza onto a cutting board. Let cool a few minutes, and then slice and serve.
Nutritional information per serving (based on 8 servings):
Calories 107 (39% from fat) • carb. 12g • pro. 4g • fat 5g • sat. fat 2g • chol. 8mg • sod. 253mg • calc. 41mg • fiber 1g