Recall Information
Cuisinart is committed to providing Canadians with safe, high quality products, and we apologize for any inconvenience this causes our loyal consumers.
7-Cup Food Processor
Press Release Date: July 26, 2013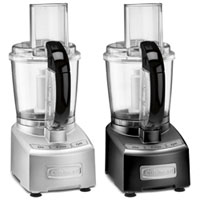 Cuisinart Engineering and Quality Assurance have determined that if the user overfills the work-bowl when using the slicing portion of the reversible slicing/shredding disc, the disc can possibly rise and cause the cutting blade to strike the inner portion of the cover when the unit is running and may create a potential laceration hazard.
Please stop using the product immediately
and contact Cuisinart Customer Service for a replacement lid and replacement reversible slicing/shredding disc.
In order to ensure your food processor is the one being recalled, please confirm the following:
Model # MFP-107BCC or MFP-107BCHC – is located on the bottom of the power base.
UPC # 068459080301 (MFP-107BCC) or UPC# 068459093462 (MFP-107BCHC) – is located on the bottom of the purchase box.
Voluntary Product Recall of Riveted Cutting Blades in certain Food Processors
Press Release Date: December 13, 2016
Cuisinart is instituting this voluntary recall because in rare circumstances cracks may be found in riveted blades from use of the food processor over time, which could on rare occasion lead to a portion of the blade to detach.

The recall applies only to the riveted blades of specific Cuisinart food processors sold in the Canadian marketplace since 1996. To identify the relevant model numbers, please check for any models as noted below. Model numbers are located on the bottom of the food processor or on the front panel of the instruction booklet.

Model Number: Riveted Blade for Food Processor that begin with the following:

CFP-11, DFP-11, DFP-14, DFP-7, DLC-10, DLC-2007, DLC-2009, DLC-2011, DLC-2014, DLC-5, DLC-7, DLC-8, DLC-XP EV-10, EV-11, EV-7, MP-14

If there are no Rivets on your blade, your Food Processor blade is NOT involved in this recall. You may continue to use your Food Processor blade.
If the model number of your 7-Cup Food Processor is listed above, or your Food Processor contains a Riveted Cutting Blade, please contact our customer support team.
Toll Free Number at 1-800-472-7606
Monday – Friday: 9:00 am – 4:30 pm EST
Email:
Service Centre