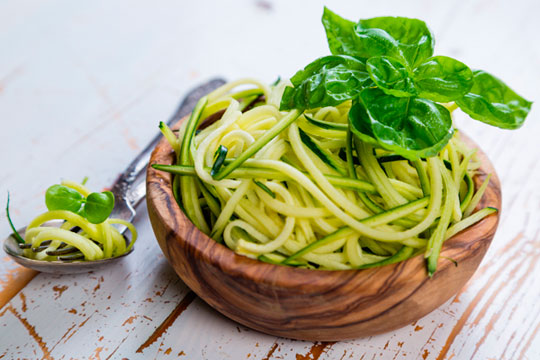 Pasta Primavera
Servings:
5 cups (1.25 L)
Ingredients:
1/2 small leek, light green and white parts only, sliced lengthwise with root end intact
3 medium zucchini, about 1-1/2 pounds (680 g), trimmed
1 medium carrot, trimmed
3 ounces parmesan
2 tablespoons unsalted butter
1 cup frozen peas
1/2 teaspoon kosher salt
1/4 teaspoon freshly ground black pepper
2 tablespoons mint leaves, torn
2 teaspoons fresh lemon juice
Directions:
Assemble the Cuisinart PrepExpress™ with the Slice/Ribbon Cone and Angled Feed Tube. Slice the leek. Reserve. Replace the Slice/Ribbon Cone with the 9mm Shred/Spaghetti Cone and shred the zucchini. Replace the 9mm Shred/Spaghetti Cone with the 3.0mm Shred/Spaghetti Cone and shred the carrot. Reserve the shredded zucchini and carrot together. Shred the Parmesan. Reserve.
In a large skillet, heat the butter over medium-high heat. Once butter melts and starts to foam, add the sliced leek. Reduce heat to medium and cook, stirring constantly, to soften, about 5 minutes. Add shredded zucchini, carrot, Parmesan, peas, salt and pepper. Stir and warm until the cheese is melted, about 5 minutes. Remove from heat and add the mint and lemon juice.
Taste and adjust seasoning as desired. Serve immediately.