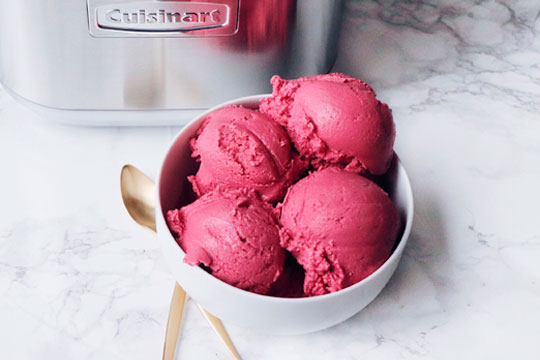 Beet Chocolate Frozen Yogurt
Recipe submitted by: Jen Zigizmund
Ingredients:
3 cups of 2% Greek yogurt or SKYR
5 medium/small size beets, steamed or roasted
½ cup chocolate chunks
½ cup maple syrup
1 tsp. of coconut oil or MCT oil
Directions:
1. Combine all ingredients in a blender or food processor and purée until smooth and creamy. Strain mixture into a medium mixing bowl, cover and refrigerate at least for 2 hours, or overnight.
2. Press Ice Cream and then Start/Stop. Pour the mixture through the spout and then cover with the cap. Let mix until thickened. The frozen yogurt will have a soft, creamy texture. If a firmer consistency is desired, transfer the frozen yogurt to an airtight container and place in the freezer for about 2-hours. Remove from freezer about 15 minutes before serving.