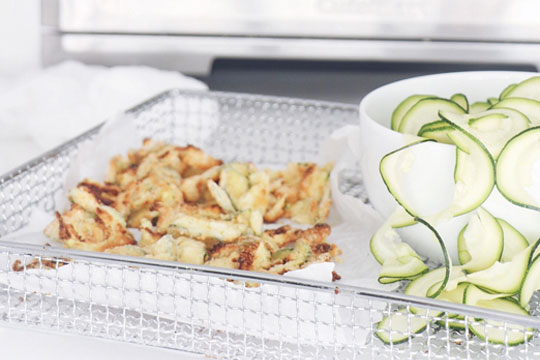 Zucchini Fries
Recipe submitted by: Jen Zigizmund
Ingredients:
1 lbs zucchini
½ cup almond flour
½ cup grated parmesan cheese
½ teaspoon garlic powder
½ teaspoon smoked or regular paprika
½ teaspoon black pepper
Olive or avocado oil
1 egg
Directions:
Thinly slice zucchini or spiralize to thick ribbon. Mix all your dry ingredients well in one bowl and beat the egg in another. Dip zucchini slices in the dry mixture, shake access, then dip in egg, then dry mixture again. Lay pieces of zucchini on a pan in single layer, drizzle with oil and place the rack into position 2. AirFry at 400°F for 8-10 minutes until golden and crispy. Let cool and enjoy!