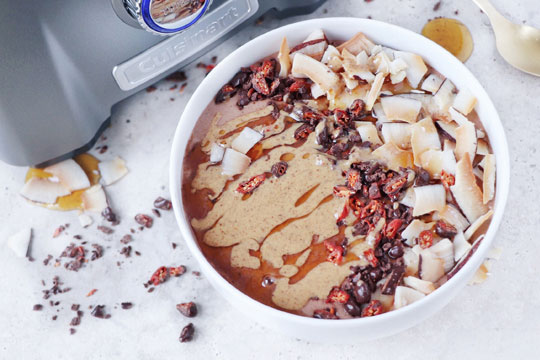 Warm Winter Smoothie
Recipe submitted by: Jen Zigizmund
Ingredients:
1 cup nut milk of your choice, cashew nut milk was used in this recipe
1 tablespoon of almond butter
1 tablespoon of honey or maple syrup
1/2 cup rolled oats
2 tablespoon of cocoa powder
Toasted coconut flakes
Chocolate covered goji berries
Directions:
Soak oats with milk overnight or at least for few hours. Blend soaked oats with cocoa powder using smoothie function on your blender. Transfer the smoothie into a small sauce pan and warm up for few minutes. This step is optional - warming the smoothie makes a perfect winter breakfast, but it will taste great regardless. Once done, transfer to small bowl and top with coconut flakes, goji berries, almond butter and honey or maple syrup. Dig in and enjoy!