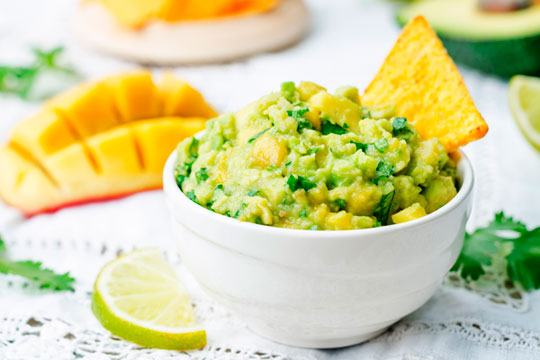 Summer Avocado Salsa with Mango, Mint and Cucumber
Recipe submitted by Andy Hay
Ingredients:
2 ripe avocados, peeled and pitted
1/4 cup finely diced red onion
1 1/2 teaspoons minced garlic
Juice from 1 lime
2 tablespoons of chopped fresh mint
¼ cup of diced cucumber, remove seeds
1 ripe mango, peeled, pitted and diced
1 tablespoon of olive oil
Salt and freshly ground black pepper, to taste
Directions:
1. Begin by peeling and pitting your avocados. Evenly distribute them into the Mini Food Processor and start pulling the cord. Remove the puree from the Mini Food Processor and place it into a serving bowl.
2. Peel, pit, and cut the mango into small pieces. Peel the red onion, cucumber, and garlic. Wash the mint and evenly distribute all the ingredients into the Mini Food Processor. Simply pull the cord and start chopping.
3. Remove the ingredients from the Mini Food Processor and combine together with the avocado puree. Add in a drizzle of olive oil, lime juice. Salt and pepper to taste.