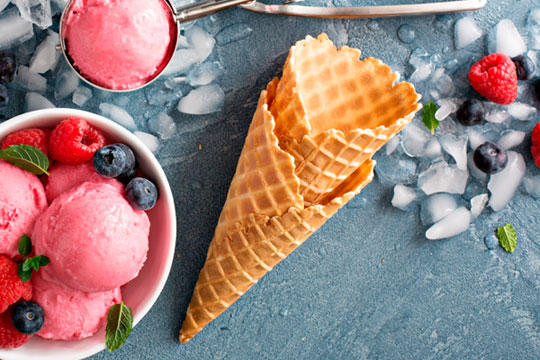 Ingredients:
1/2 cup (125ml) Unbleached All Purpose Flour
1/4 tsp. (1ml)Fine Sea Salt
2 Large Egg Whites
1/2 cup (125ml) White Granular Sugar
6 tbsp. (90ml) Unsalted Butter – melted
1/2 tsp. (2ml) Pure Vanilla Extract
Directions:
Combine egg whites and sugar in a mixing bowl, whisk until silky, add butter and vanilla
Combine flour and salt in a separate mixing bowl, whisk to incorporate
Combine wet and dry ingredients, whisk until smooth
Preheat the International Chef with Pizzelle plates in the closed position
Set temperature set to Medium and timer set to 2½ minutes
Once preheated, use small scoop and portion batter onto the center of each pizzelle mold
Close cover and lock to activate timer and begin cooking, a tone will sound when time has expired
Using tongs very carefully (cones will be hot) remove one cone at a time and place on a flat work surface.
Place cone mold in the center of the circle, wrap one side on top of the mold and then roll it to meet the other side
Press the mold down on the counter using the tongs with the seam side down to seal, repeat with remaining cones