Give your kitchen a fresh new look!
Create a lifetime of cooking memories with Cuisinart.
Shop now and receive Free Shipping on all orders over $75
8-Piece Vintage Hand Hammered Tri-Ply Cookware Set
Item# HTP-8SSC
Beautifully designed with a traditional hammered exterior, this tri-ply stainless steel cookware with its pure aluminum core offers unsurpassed durability, quality and results. Heat Surround Technology evenly distributes heat along the base and side walls, while riveted handles provide a comfortable grip. Suitable for all stovetops, each piece is induction-ready and oven-safe up to 500°F (260°C).
$599.99 | $279.99
11-Piece Stainless Steel Nesting Cookware Set
Item# N91-11C
This 11-Piece Nesting Cookware Set is uniquely designed, with an advanced cookware system that reduces the space needed to access and safely store pots and pans conveniently. Vessels effortlessly nest together with secure tabs to keep you and your cabinet organized.
$699.99 | $629.99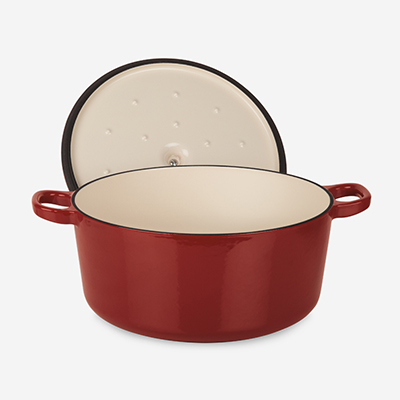 3.5 Qt (3.3l) Round Casserole with Self-Basting Cover
Item# CIB635-22CRC
On the stovetop or in the oven, this casserole provides superior heat retention for braising, stewing, simmering, and more. Perfect for chili, stew or your favourity soups.
$129.99 | $99.99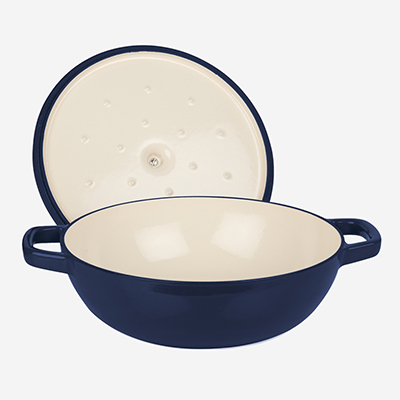 3.17 Qt (2.9l) Braiser with Self-Basting Cover
Item# CIBB631-25BLC
On the stovetop or in the oven, this casserole provides superior heat retention for braising, stewing, simmering, and more. Perfect for chili, stew or your favourity soups.
$149.99 | $89.99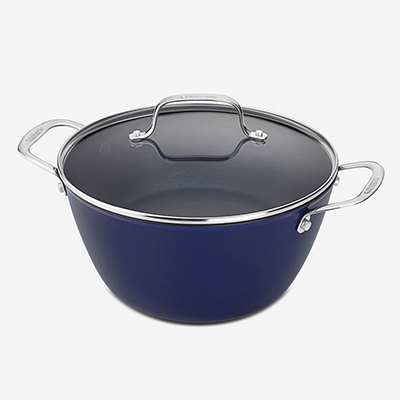 Dutch Oven with Cover
Item# CIL32-22BBC
Designed from the inside out for today's lifestyles, our Cuisinart Cookware combines uncompromising superior cooking performance with a professional look.
$139.99 | $69.99
3-in-1 Multifunctional Kitchen Centre
Item# CFP-800C
Interchangeable Food Processor, Blender and Continuous Juice Extractor bowls are all powered by the same 500-watt base. The Food Processor includes stainless steel blades for chopping/mixing/dough. Perform multiple food prep tasks with minimal counter space!
$279.99 | $265.99
Classic Bar Blender
Item# CBB-550TQC
The Cuisinart Classic Bar Blender provides effortless blending, puréeing and liquefying capabilities. The high-performance motor is powerful enough to crush ice like the pros, right on your wet bar, dry bar, or kitchen counter. The powerful 750 peak watt motor and ultra-sharp stainless blades quickly and easily crush ice and turn fruits and veggies into juices and smoothies. Designed for simple operation, it offers two speeds controlled by a one-touch toggle switch. When blending's done, the machine is a snap to clean – the sturdy zinc base wipes clean and the removable parts are dishwasher safe.
$219.99 | $197.99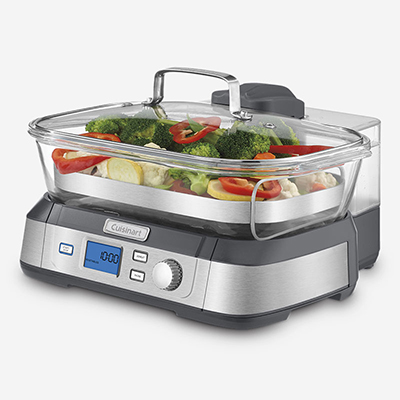 Cook Fresh Digital Glass Steamer
Item# STM-1000C
Consumers looking for a healthy way to cook will love Cuisinart's new Cook Fresh Digital Glass Steamer. A powerful steam system delivers steam from the top down, surrounding food to cook quickly and evenly. The 5-liter glass cooking pot is large enough for family-size portions of vegetables, fish, chicken, rice and more. And the steamer's 1-liter water tank conveniently lifts off to fill. Healthy cooking is today's biggest trend, and this new glass steamer from Cuisinart makes it quick and easy.
$249.99 | $224.99
Chef's Convection Countertop Oven
Item# TOB-260N1C
Our Chef's Convection Oven boasts 15 cooking functions and offers special settings for speed convection, sandwiches and bagels. Heating power of 1800 watts provides quick heat up time, precise temperature and perfect results every time. The easy-clean nonstick interior is so roomy it can hold a 13-inch pizza, 9 slices of bread, a 9" x 13" baking pan or an entire 9-pound chicken. It's the easiest way to make a real home-cooked meal - every day!
$349.99 | $314.99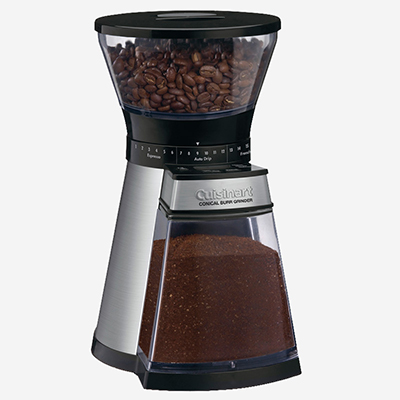 Programmable Conical Burr Mill
Item# CBM-18C
The elegant brushed stainless steel Cuisinart Programmable Conical Burr Mill produces perfect results every time for all your coffee needs with 18 settings, from extra coarse for your French Press to extra fine for rich espresso. The conical burr grinder produces a uniform grind without sacrificing the natural oils of your coffee beans for rich, flavourful results. With an easy-to-read LCD display showing the time, fineness, and number of cups, coffee is easy and fresher than ever.
$129.99 | $116.99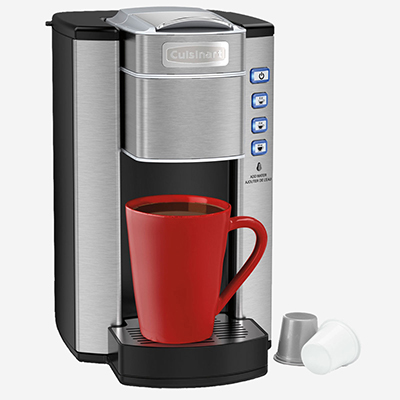 Single Serve Coffeemaker
Item# SS-6C
Meet the new Cuisinart Single Serve Brewer! This K-Cup compatible coffeemaker features a 48 oz. (1.4L) water reservoir and three serving size options. Choose 6, 8 or 10 oz. and brew a cup of coffee or tea in a flash. The removable drip tray makes it easy to fill travel mugs, and 30-minute auto shutoff makes morning departures worry free!
$169.99 | $152.99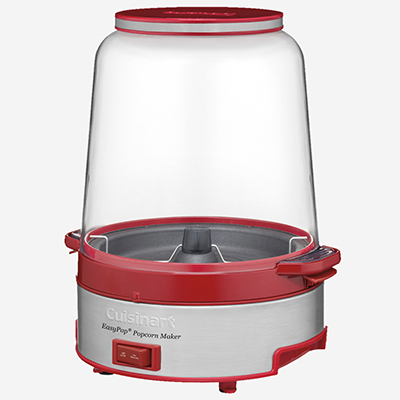 Easypop Popcorn Maker
Item# CPM-700C
The Cuisinart EasyPop Popcorn Maker makes it easier than ever to pop crunchy homemade popcorn. The Cuisinart EasyPop Popcorn Maker pops up to 16 cups and has special vents in the popping bowl to let moisture escape. Popcorn lovers can select the desired amount of oil and salt to make popcorn just the way they like it. When popping is complete, they can serve right from the popping bowl. The Cuisinart EasyPop Popcorn Maker operates with the simple flip of a switch. Cleanup is easy too: All removable parts are dishwasher safe. Easy! Fast! Fun!
$89.99 | $80.99