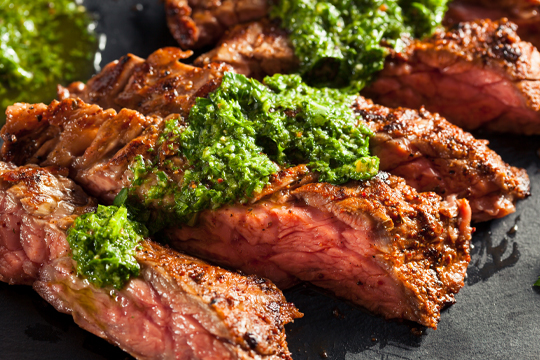 Skirt Steak with Chimichurri Sauce
If you have any ripe fruit on hand, like ripe pineapple or mango, chop it finely and add about 1 tablespoon (15 ml) to the sauce for added sweetness and a pop of colour.

Plate Side: Grill

Griddler Cooking Position: Open and flat with smoke-less

Makes about 1 cup (250 ml) sauce, 3 to 4 servings
Ingredients:
Sauce:
4 garlic cloves, finely chopped
½ teaspoon (2.5 ml) salt
Pinch cumin
Pinch red pepper flakes
2 teaspoons (10 ml) red wine vinegar
2/3 cup (150 ml) extra virgin olive oil
¼ cup (60 ml) parsley leaves, roughly chopped
2 tablespoons (30 ml) fresh oregano leaves, roughly chopped
Steak:
1 pound (454 g) skirt steak, about 1 inch (2.5 cm) thick
2 teaspoons (10 ml) olive oil
½ teaspoon (2.5 ml) salt
¼ teaspoon (1 ml) pepper
Directions:
1. Make the Chimichurri Sauce: Combine the first 5 ingredients in a small bowl. While whisking, add the extra virgin olive oil, and then fold in the chopped parsley and oregano. Cover and allow to sit so the flavours can meld.
2. Turn on the Cuisinart Smoke-less Contact Griddler. Select Smoke-less mode and set both plates to Beef.
3. While the Smoke-less Contact Griddler is preheating, season the steak on both sides with the olive oil, salt and pepper.
4. Once preheated, put the steak on the bottom plate. Set the count-up timer and cook for about 6 minutes on the first side and 4 to 5 minutes on the second side, until desired doneness.
5. Transfer the steak to a cutting board and allow to rest for 5 minutes. Slice against the grain. Serve with a spoonful of the sauce drizzled on top.
Nutritional information per serving (based on 4 servings):
Calories 789 (59% from fat) • carb. 42g • pro. 39g • fat 52g • sat. fat 18g • chol. 435mg • sod. 1229mg • calc. 482mg • fiber 4g