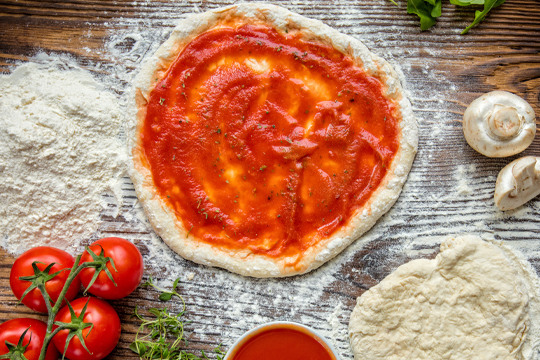 Pizza Dough
Servings:
Makes 1½ pounds (680 g) of dough, two 12-inch (30 cm) crusts
This dough can be used for more than just the obvious, although who doesn't love homemade pizza?
Ingredients:
1 cup (250 ml) warm water (105°F to 110°F [40°C to 43°C])
1½ teaspoons (7 ml) granulated sugar
2¼ teaspoons (11 ml) active dry yeast
3 cups (750 ml) bread flour (unbleached, all-purpose flour may be substituted), plus additional for dusting and rolling
1½ teaspoons (7 ml) kosher salt
1 tablespoon (15 ml) extra virgin olive oil, plus more for coating the dough
Directions:
Stir together the warm water, sugar and yeast in the Cuisinart mixing bowl. Attach the dough hook and let stand until the mixture is foamy and bubbly, about 5 to 10 minutes.
While the yeast is proofing, combine the bread flour and salt in a separate mixing bowl.
Once the yeast is foamy, add the flour mixture and olive oil to the bowl and turn the mixer on to Speed 3 until dough comes together as a ball and cleans the side of the bowl.
Once dough ball forms, continue to knead on Speed 3 for about 4 minutes. Dough should be smooth and spring back to the touch. If sticky, add 1 tablespoon (15 ml) of flour at a time until smooth. Alternatively, if the dough seems too dry, add 1 tablespoon (15 ml) of water at a time.
Cover bowl with plastic wrap and let rise in a warm, draft-free place until doubled in volume, about 1 hour.
Place dough on a lightly floured surface and form into desired crust size(s) or as directed by recipe.
Nutritional analysis per serving (2 ounces, based on 12 servings for two, 12-inch crusts):
Calories 114 (9% from fat) • carb. 23g • pro. 3g • fat 1g • sat. fat 0g • chol. 0mg • sod. 286mg • calc. 1mg • fiber 1g