September Promotions
Build your kitchen with the best, from iconic Food Processors to innovative Coffee Makers.
No one covers the kitchen as we do! Spend $75 and receive Free Shipping.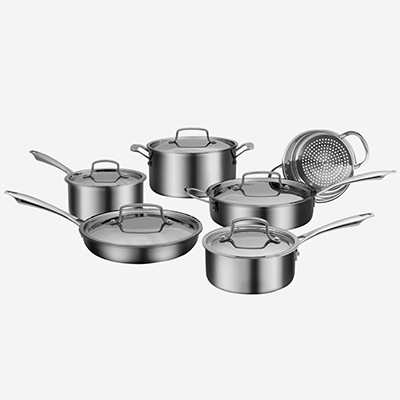 Professional Series 11 piece Tri-ply cookware set
Item# 89T-11HC-1PKC
Even the most demanding chef simply cannot find better cookware quality or durability than what's offered in this deluxe, versatile collection. Its triple ply construction features cores of pure aluminum enveloped by stainless steel and stainless steel handles. The result is exceptional, long lasting performance.
$599.99 | $299.99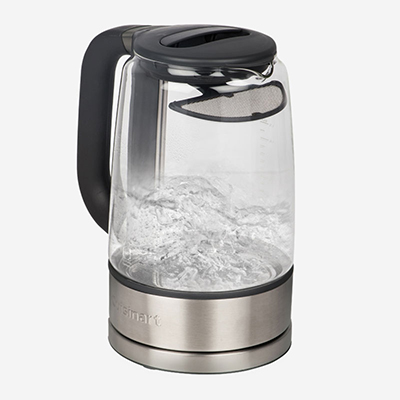 Viewpro 1.7 l Glass Kettle
Item# GK-17C-1PKC
Whether heating water for the perfect afternoon tea, making hot cocoa before bed or filling a French Press for your morning coffee, the ViewPro Electric Cordless Tea Kettle is always ready.
$99.99 | $89.99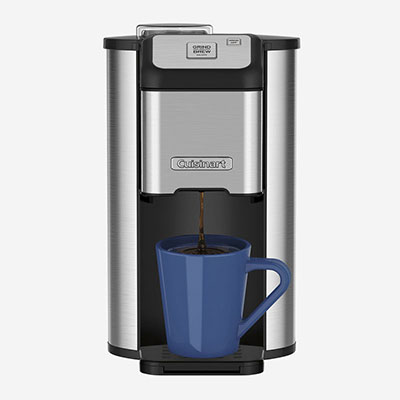 Single Cup Grind and Brew Coffeemaker
Item# DGB-1UC-1PKC
One cup brewing now offers fresh gourmet quality. This unit grinds beans first so every single cup gets the best of the bean for the best flavour. Use your favourite type of coffee for optimal results every time, so you're never disappointed.
$149.99 | $89.99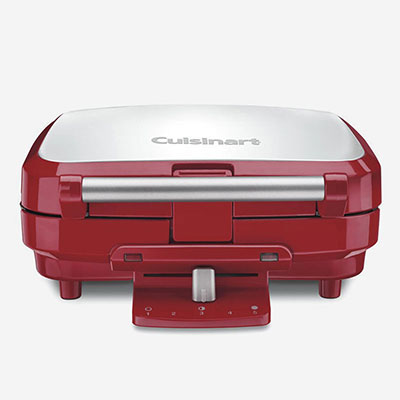 4-slice Belgian Waffle Maker
Item# WAF-150RUC-1PKC
Take waffles beyond breakfast with the Cuisinart 4-slice Belgian Waffle Maker. This reliable, high-performance waffle iron has an elegant stainless steel top. It makes deep-pocket waffles that hold more toppings for more delicious options!
$89.99 | $84.99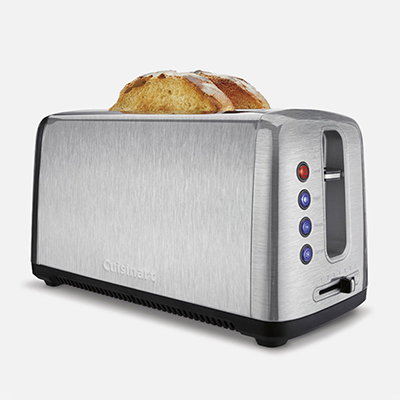 The bakery artisan bread toaster
Item# CPT-2400C-1PKC
Toasting rustic artisan and thick homemade breads requires a special toaster, and Cuisinart comes through once more! The Artisan Bread Long Slot Toaster has two extra-long, extra-wide 10" x 1 ½" slots to hold healthy, fresh artisanal breads.
$99.99 | $89.99
Theatre Style Popcorn Maker
Item# CPM-25C-1PKC
Make hot, fresh, delicious popcorn in just a few minutes with this classic Theatre Style Popcorn Maker. The unit features a pivoting kettle with a built-in stirring mechanism for even distribution and perfect popping. It can produce up to 8 cups at a time, making it a fun accessory for birthday parties, movie night, and any home entertaining.
$149.99 | $119.99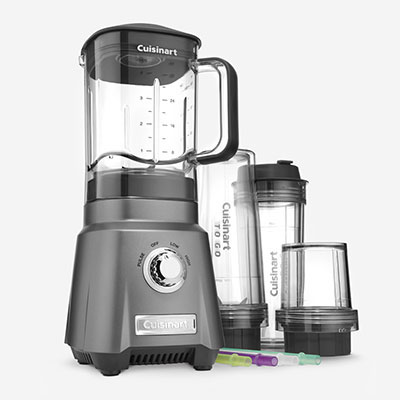 Hurricane Compact Blender with Free Cooking Book
Item# CPB-380C-BOOKC
The Hurricane™ COMPACT Juicing Blender with 1+ Peak HP motor breaks down whole fruits and vegetables in the streamlined BPA Free 32 oz jar and minces herbs and spices in the 8 oz BPA Free chopper cup for delicious nutrient-filled juices and/or smoothies. The Hurricane™ COMPACT blender has big-blender performance and blend in "To Go" cup convenience.
$169.99 | $149.99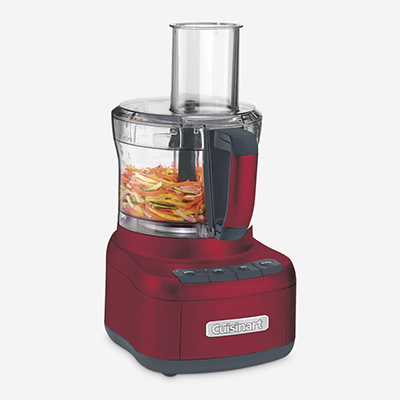 8-cup Food Processor - Red
Item# FP-8MREC-1PKC
This Food Processor is designed to perform just about any food prep task a recipe calls for. It's big enough to chop ingredients for a party-sized portion of salsa, and powerful enough to turn a full work bowl of veggies into healthy puréed soups in seconds. Rubberized touch pad controls, and reversible shredding and slicing discs make this food processor a favourite of creative home cooks!
$149.99 | $119.99