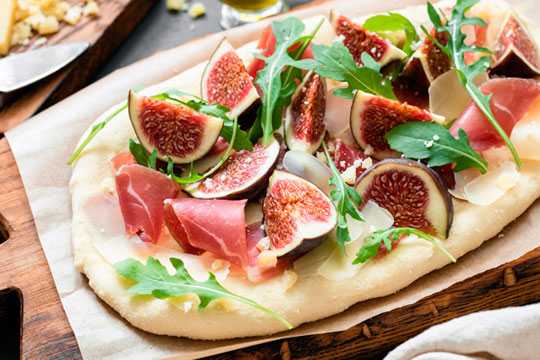 Pizza with Arugula, Prosciutto and Fig Jam
Gourmet pizza that anyone can make.
Ingredients:
Nonstick cooking spray
1 pound (454 g) pizza dough, room temperature
¼ cup (60 ml) fig jam
¼ pound (125 g) prosciutto, thinly sliced
1 ounce (28 g) semi-soft goat cheese
1 tablespoon (15 ml) extra virgin olive oil
1 cup (250 ml) baby arugula
Directions:
1. Generously coat the Baking Pan with nonstick cooking spray. Put the pizza dough on the pan. Stretch the dough to cover the entirety of the pan.
2. Put Baking Pan into rack Position 1. Set oven to Bake at 450°F (230°C) for 10 minutes. Cook until lightly golden. Remove from oven and add jam to the center of the dough. Leaving a 1-inch (2.5 cm) border for the crust, spread the jam into a thin, even layer. Top with the prosciutto and goat cheese. Brush the border with the olive oil.
3. Return pizza to rack Position 2 and bake for an additional 5 minutes, or until the edges are golden brown.
4. Remove pizza from the oven and top with the arugula. Let arugula slightly wilt for 2 minutes before serving. Drizzle any remaining oil over the pizza.
Nutritional information per slice: Calories 255 (30% from fat) • carb. 37g • pro. 11g • fat 9g • sat. fat 3g • chol. 16mg sod. 716mg • calc. 36mg • fiber 4g