Top 10 New Year Must-Haves
for Health and Fitness Enthusiasts
Kick in the New Year with a New You! Save Big on these Must-Haves to Maintain a Healthy Lifestyle.
Shop now and receive Free Shipping on all orders over $75.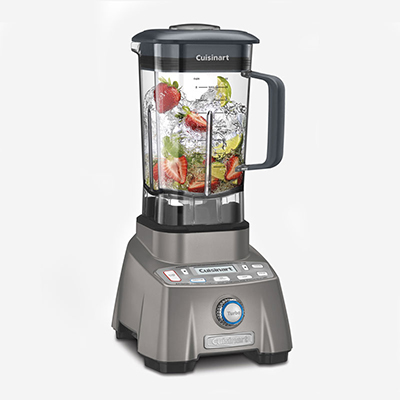 Hurricane Pro 3.5 Peak HP Blender
Item# CBT-2000C
Introducing our most powerful blender ever. The Hurricane Pro has a commercially rated 3.5 Peak HP motor and professional features that let it outperform every blender in its class. Innovative BlendLogix technology ensures consistent blending speeds regardless of density or volume of ingredients, and the memory function lets users adjust preset times, then remembers the new settings. A variable speed control (1,500RPM to 25,000RPM), a 30,000RPM Turbo Boost feature, and the 6-prong stainless steel blade ensure everything that goes into the extra-large, 64-ounce, BPA-free Tritan jar is blended to perfection.
$499.99 | $399.99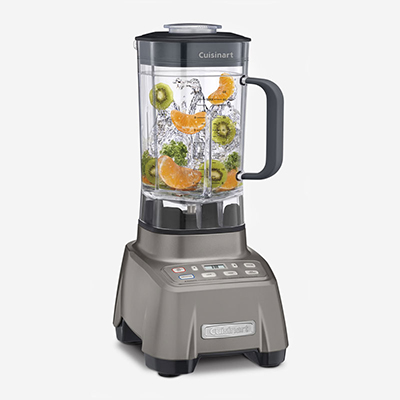 Hurricane Blender
Item# CBT-1500C
This Cuisinart Hurricane blender is revved and ready to go. The professional power 2.25 peak HP motor handles even heavy pulverizing tasks with ease, and the double housing design keeps operation quiet. The 60-ounce (1.8L) BPA-free Tritan jar sits in a heavy duty plastic base and is uniquely designed for easy pouring, with a soft-touch handle for a secure grip. This blender operates at the touch of a button, with Low and High speeds, Pulse and preprogrammed Smoothie and Ice Crush options.
$249.99 | $199.99
Hurricane Compact Blender
with Free Cooking Book
Item# CPB-380C-BOOKC
The Hurricane Compact Juicing Blender with 1+ Peak HP motor breaks down whole fruits and vegetables in the streamlined BPA Free 32 oz jar and minces herbs and spices in the 8 oz BPA Free chopper cup for delicious nutrient-filled juices and/or smoothies. The Hurricane Compact blender has big-blender performance and blend in "To Go" cup convenience. Included are two 16 oz travel cups with travel lids, one double wall and one single wall. Also included are 4 colourful, heavy-duty reusable straws!
$169.99 | $149.99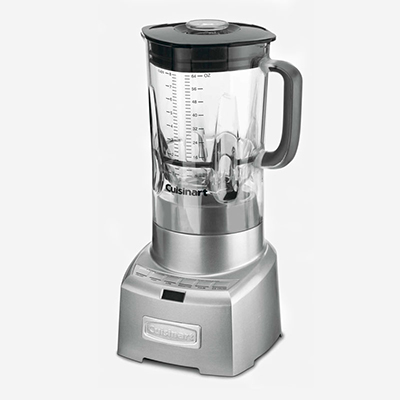 Elite Collection Power Edge Blender
Item# CBT-1000C
Our most powerful blender features high-performance 1.3 Horsepower DC motor that easily powers all blending tasks with lightning speed for dependable results every time.
$199.99 | $99.99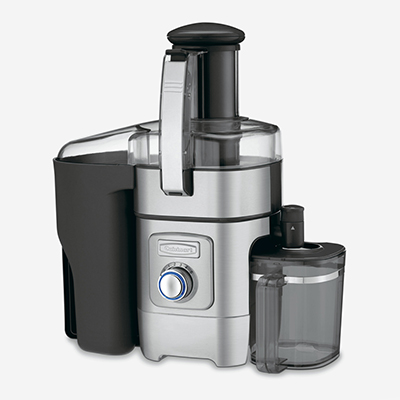 Juice Extractor
Item# CJE-1000C
It's never been easier to create fresh, nutritious fruit and vegetable juices at home. The 3 inch (7.5 cm) feed tube easily handles soft and hard whole fruits and vegetables for wash-and juice convenience. The adjustable pour spout and locking hinged lid eliminate drips and spills for clean countertops, and the 5-speed control dial is easy to operate. The specially designed filter basket reduces foam while increasing juice output, and the unit is so quiet, you won't wake the family while you're making juice for breakfast! Our exclusive foam management filter disk allows you to choose the amount of foam in your juice - use the disk for less or leave it out for frothy, foamy juice.
$219.99 | $199.99
AirFryer Convection Oven
Item# TOA-60C
Introducing a healthier way to fry, and so much more! The Cuisinart AirFryer Convection Oven is a premium full-size toaster oven with a built-in air fryer. That means it not only bakes, broils, and toasts, it also lets you air-fry right inside the oven. Best of all, a large, 4-pound chicken requires only about a teaspoon of oil to fry! Air frying, which uses powerful ultra-hot air, is a healthier way to prepare delicious fried favourites, from wings to fritters to fries to shrimp. And since toaster ovens stay on the countertop, this fryer doesn't have to move back and forth, from cupboard to counter. Enjoy the crunch without the calories and messy cleanup, with the Air Fryer Convection Oven from Cuisinart!
$299.99 | $285.99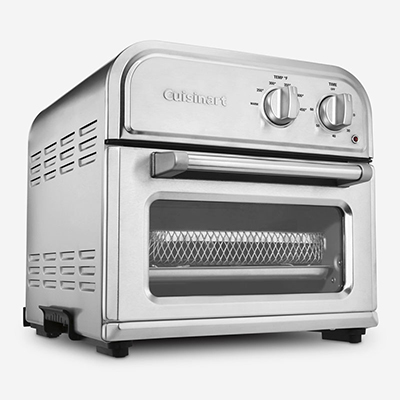 Compact AirFryer
Item# AFR-25C
Now anyone can enjoy crispy, flavourful fried foods without the guilt! This high-efficiency unit ensures golden brown results and air-fries a wide variety of foods with minimal noise and maximum ease. Simple to use - turn one knob to regulate the temperature, and the other to set the timer. Designed with a spacious, non-stick interior and stylish stainless steel, the Cuisinart AirFryer is easy to clean and complements any kitchen decor.
$199.99 | $179.99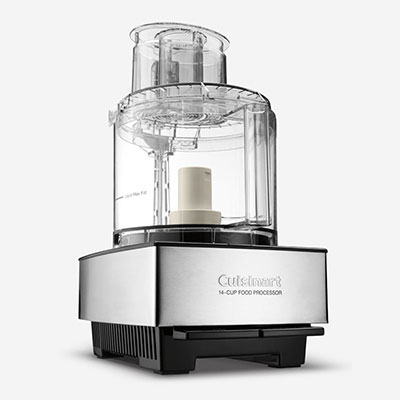 Custom 14-Cup Food Processor
Item# DFP-14BCNYC
Cuisinart makes cooking for crowds easy and fast with the Custom 14-Cup Food Processor. Made from brushed stainless steel, this sleek kitchen workhorse is a breeze to use and will whir through prep and cooking with ease. Whether you are making a weeknight meal or a weekend celebration, the large capacity work bowl will hold everything as the 720 watt motor makes quick work chopping whole fruits and vegetables, shredding cheese, or kneading dough.
$379.99 | $361.99
ViewPro 1.7 L Glass Kettle
Item# GK-17C
Whether heating water for perfect afternoon tea, making hot cocoa before bed, or filling a French Press for your morning coffee, the ViewPro Electric Cordless Tea Kettle is always ready. Boasting 1500 watts of power and a Schott glass body, this kettle brings up to 1.7 litres of water to a boil fast, at the push of a button.
$99.99 | $89.99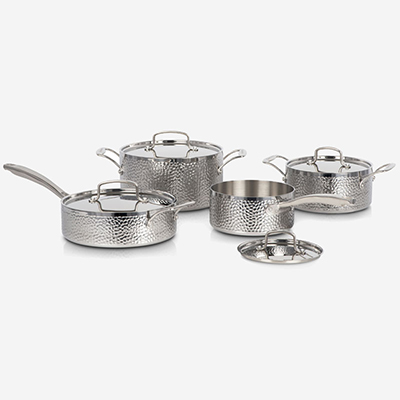 8-Piece Vintage Hand Hammered
Tri-Ply Cookware Set
Item# HTP-8SSC
Beautifully designed with a traditional hammered exterior, this tri-ply stainless steel cookware with its pure aluminum core offers unsurpassed durability, quality and results. Heat Surround Technology evenly distributes heat along the base and side walls, while riveted handles provide a comfortable grip. Suitable for all stovetops, each piece is induction-ready and oven-safe up to 500°F (260°C).
$599.99 | $279.99
Classic 15-Piece Stainless Steel Block Set
Item# SSC-15HHC
Superior high-carbon stainless steel blades for precision and accuracy. Ergonomically designed stainless steel handle provides comfort while cutting.
$349.99 | $199.99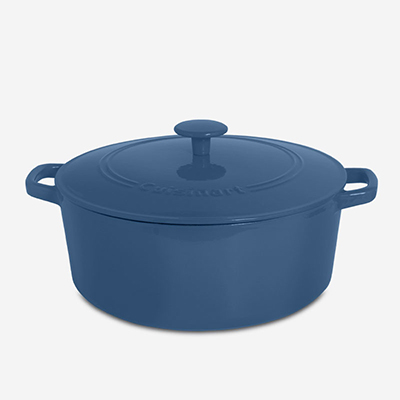 7 Qt. Round Casserole with Lid
Item# CI670-30BCTC
Cast iron improves its solid reputation with Cuisinart Classic Collection Enameled Cast Iron cookware! Home chefs can explore different cooking methods - from searing or grilling in the pans to slow braising or simmering in the casseroles. With incredible heat retention and even heat distribution, these versatile pieces yield great results whether it's on the stove or in the broiler or oven. They also can go from oven to table and double as elegant serving pieces!
$239.99 | $119.99
Classic Collection 30 cm Non-Stick Skillet
Item# 722-30HNSC
Our continued commitment to quality and innovation is marked by the introduction of our Classic Collection Stainless cookware, designed to meet the demands of gourmet chefs, this professional cookware features the Cuisinart signature stainless steel exterior, polished to a brilliant mirror finish.
$119.99 | $59.99
Perfect Weight Kitchen Scale
Item# KS-55C
Weighing is the quickest and most accurate way to measure most dry and solid ingredients such as sugar, flour and shortening for consistently reliable results. With your new Cuisinart Kitchen Scale, weighing is simple and easy. Designed to meet all your household measuring needs, your scale will provide precise, consistent weighing of cooking/baking ingredients for the best results. Use your scale to weigh food portions specified in your dieting guides. You can even weigh oversized letters and packages to ensure you have the right amount of postage. The Cuisinart Kitchen Scale is compact, light and convenient to store. Operation and cleanup are fast and easy. It weighs in 1/8 ounce increments up to a maximum of 11 pounds (5 kg). This scale converts from ounces to grams at the touch of a button and weighs in gram increments up to a maximum of 5 kg.
$69.99 | $39.99