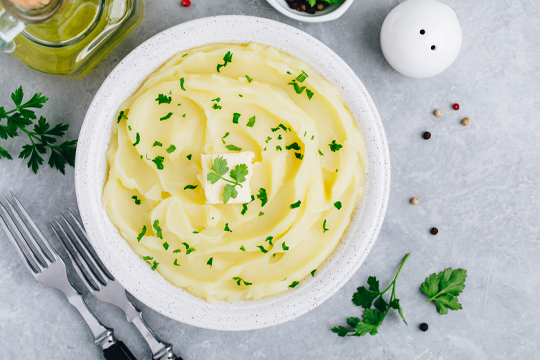 Mashed Potatoes
Servings:
Makes about 9 cups (2,25 L)
This basic recipe is perfect to serve as is, or be creative and add different flavours like fresh herbs or cheese.
Ingredients:
5 pounds (2,2 kg) Yukon gold potatoes, peeled and cut into 1-inch pieces
5 1/3 tablespoons (80 ml) unsalted butter, cut into 1-inch pieces
1 cup (250 ml) crème fraîche
½ cup (125 ml) milk (any fat variety works)
1 teaspoon (5 ml) kosher salt
½ teaspoon (2 ml) freshly ground black pepper
Directions:
Put potatoes into a stockpot and cover with cold water. Bring to a boil and simmer until potatoes are tender.
Once the potatoes are tender, drain the potatoes completely and then transfer to the Cuisinart mixing bowl. Attach the chef's whisk and mix on Speed 5 until potatoes are completely mixed with no lumps, scraping down the entire bowl as necessary.
Once potatoes are smooth, add the butter, crème fraîche, milk, salt and pepper. Mix again on Speed 8, increasing to Speed 12 until potatoes are light and fluffy. Scrape the bowl once to make sure all ingredients are evenly incorporated.
Taste and adjust seasoning as desired.
Nutritional analysis per serving (½ cup [125 ml]):
Calories 172 (42% from fat) • carb. 21g • pro. 3g • fat 8g • sat. fat 5g • chol. 27mg • sod. 155mg • calc. 55mg • fiber 3g