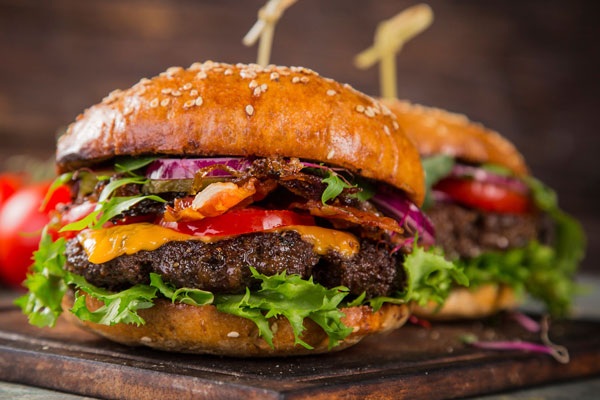 Hamburgers with Caramelized Onions and Gruyère
This French-style burger is rich and delicious.

Plate Side: Bottom Grill, Top Griddle
Griddler Cooking Position: Open and flat
Ingredients:
1 yellow onion, thinly sliced
2 tablespoons (30 ml) olive oil, divided
1¼ teaspoon (6 ml) salt, divided
¼ cup (60 ml) water
4 brioche rolls
24 ounces (680 g) ground beef
½ teaspoon (2.5 ml) freshly ground black pepper
4 slices Gruyère cheese
Directions:
1. Combine the onion slices, 2 teaspoons (10 ml) of the oil and ¼ teaspoon (1 ml) of the salt in a bowl. Turn on the Cuisinart Griddler. Select Grill and set to 425°F (220°C).
2. Once preheated, put the onions on the top plate of the Griddler. Set the count-up timer and cook for about 20 minutes, until onions are soft. Once the onions are soft, add 1 teaspoon (5 ml) of the water to the onions and stir until water evaporates. Repeat until onions are very soft and caramelized, about 10 more minutes, until all water is used.
3. While the onions are cooking, put the buns on the grill plate face-down. Cook until lightly crisped, about 2 to 3 minutes. Set aside.
4. When the buns are toasted, form the ground beef into 4 even-sized patties, 6 ounces (180 g) each. Sprinkle both sides evenly with the salt and pepper. Brush with the olive oil.
5. Add the burgers to the bottom plate, and cook until desired doneness. Top with cheese and transfer to the grilled bottom buns. Top the burgers with the onions, buns and serve.
Nutritional information per serving (1 burger): Calories 638 (60% from fat) • carb. 25g • pro. 39g fat 43g / sat. fat 16g • chol. 133mg • sod. 1064mg calc. 182mg • fiber 1g