Precision Master™
5.5-quart (5.2 L) Stand Mixer
Cuisinart is changing the way the world mixes! This phenomenal new stand mixer delivers power, more capacity, and more options. Now available in Silver, Black, White, Red, and Turquoise.
Exceptional Power
Brilliantly designed for high performance, this stand mixer is built to handle your toughest tasks. The 500-watt direct drive motor powers through anything from your softest liquids to sticky doughs offering superior strength and durability.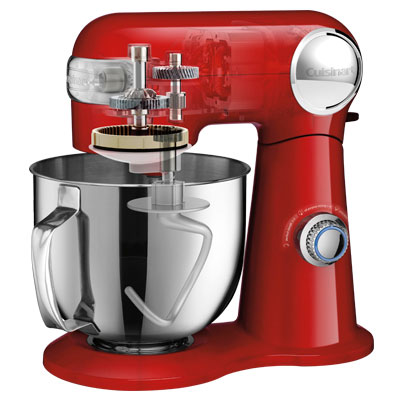 Precision 12-Speed Control Dial
12 speeds let you go from ultra-gentle "fold" to powerfully fast whip in seconds.
59-point planetary mixing action
Allows for complete mixing action as the beater, whisk, or dough hook rotate within the bowl for a complete and thorough mix! This replicates the mixing system used by patisseries and bakeries.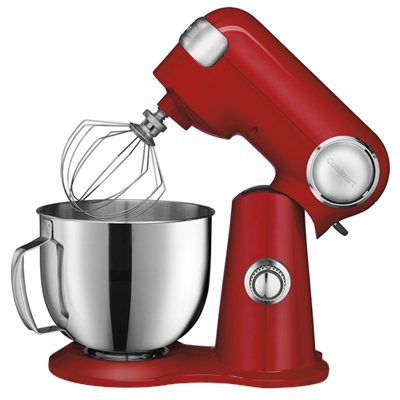 Tilt-back head
The unit's tilt-back head allows for easy access to scrape and remove its 5.5-Quart mixing bowl.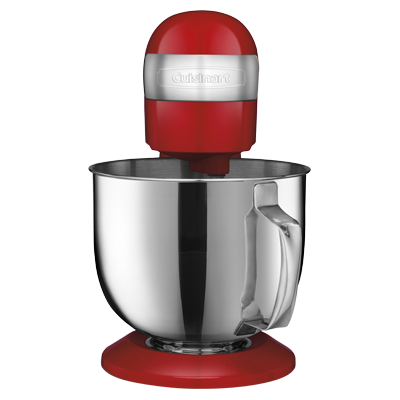 Mix Up Dough for 5 Dozen Cookies
Large capacity 5.5-Quart (5.2 L) polished stainless steel mixing bowl with easy-to-grip handle.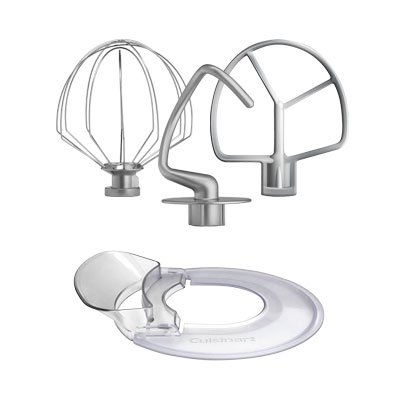 Accessories Included
Every stand mixer is equipped with a chef's whisk, dough hook and at mixing paddle. A splash guard is also included to prevent ingredients from splattering when mixing.
Do more with your Precision Master™ Stand Mixer
The magnetic power hub cover removes to accommodate a variety of optional attachments.
Turn your mixer into a pasta maker, a meat grinder, a frozen fruit dessert and ice cream maker.
The possibilities are endless.
Pasta Extruder Attachment
Make fresh pasta in minutes with the Pasta Extruder Attachment. Includes 6 pasta plates with storage case: Small Macaroni, Large Macaroni, Rigatoni, Fusilli, Bucatini, and Spaghetti. Turn your Precision Master Stand Mixer into a kitchen workhorse, whipping up fresh batches of pasta for family and friends.
Pasta Roller & Cutter Attachment
The Pasta Roller and Cutter Attachment connects to your Precision Master Stand Mixer to make a variety of homemade pastas. Pasta Sheet Roller lets you make fresh lasagne or hand-cut pasta of differing thicknesses, while the other two cutters make Fettuccine or Spaghetti. Homemade pasta will become an everyday affair!
Meat Grinder Stand Mixer Attachment
Now you can use the Cuisinart Meat Grinder Attachment with your Precision Master Stand Mixer to grind the ingredients you trust for a healthier, tastier dinner. This versatile attachment grinds meat, poultry, nuts and vegetables, and makes small and large sausages as well. All parts are easy to attach, detach, and clean.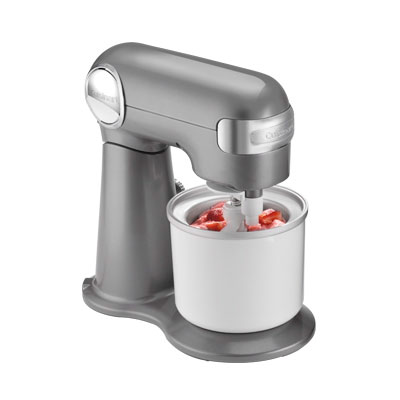 Fresh Fruit & Ice Cream Maker Attachment
Make fresh fruit desserts and ice cream in just 10-25 minutes in the 1.5 Quart Fruit Scoop™ Frozen Dessert Maker Attachment! Once the bowl has frozen fully, remove from your freezer and lock into place on the stand mixer. Attach the fresh fruit or ice cream paddle, and get creative!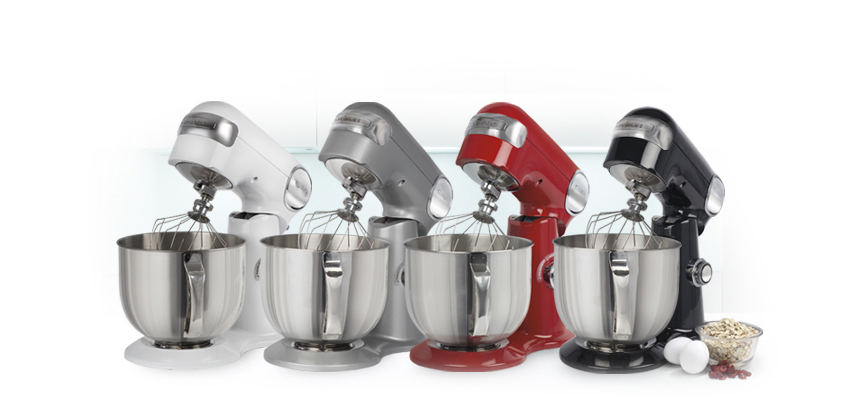 Precision Master™ Compact 3.5-Quart (3.3 L) Stand Mixer - Coming Soon!
Introducing the powerful 350-watt motor, 12-speeds Precision Master™ Compact Stand Mixer! The 3.5-Quart capacity polished stainless-steel bowl easily mixes, kneads or whips your favourite ingredients! The magnetic power hub outlet is compatible with SM-50 Series optional attachments, excluding the Fresh Fruit & Ice Cream Maker Attachment.