Multifunctional Cooking with Speed and Versatility
Cooking under pressure can finish a meal 70% faster!
Reach a max 15psi with this pressure multi-cooker with its exclusive HIGH+ setting.

12 Pre-Programmed Multi-Functional Settings
The unit features 12 pre-programmed settings which include 9 Pressure cooking functions and slow cook settings from high to low. Sauté & Brown your meals, Reduce at the end of your cooking time to thicken sauces/ reduce liquids or keep foods warm until they are ready to serve!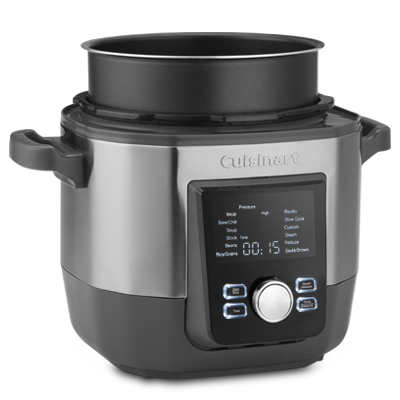 Time & Temperature Controls
The built-in countdown timer keeps track of your cooking time. Simply set your temperature for any meal with Low, High, and High+ pressure settings along with Low and High temperature settings for slow cooking or other cooking functions.
Automated Steam Release Function
Choose from one of three ways to easily and safely release steam pressure depending your recipe:

Natural Pressure Release, Quick Pressure Release, or a combination of both. Press and hold to automatically open the pressure release valve and release steam.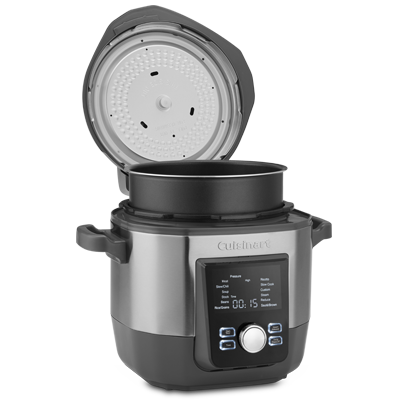 Easy Cleaning
The 6-quart cooking pot has a non-stick interior for easy cleaning. The cooking pot is also dishwasher safe. The lid has a seal ring assembly that is fully removable for easy cleaning.
LCD Display
Easily see what's going on with the blue back-lit LCD screen; it displays the Cooking Function, Temperature, Pressure Setting, Timer, Preheat, the Preheat Bars, Keep Warm, and Steam Release icon.
6-Way Safety Features
There are 6 safety devices installed in the pressure multi-cooker designed to ensure the upmost reliability when cooking.