Combo Steam & Convection Oven
The Steam + Convection Oven includes specialty settings that allow you to proof bread, rolls - even homemade pretzels and donuts! The Bread function simulates a professional bread oven on your counter. An initial burst of Steam followed by convection baking yields professional results every time with crispy crusts and perfectly risen interiors.
Healthy cooking made easy
Steaming is a healthy way to cook. With the Combo Steam & Convection Oven's unique Steam Bake and Steam Broil features you can cook your favourite foods white retaining moisture for more avour and less fat while retaining valuable vitamins, minerals and nutrients. Not only will everything you steam cook or steam bake be healthier, it will be moist and juicy!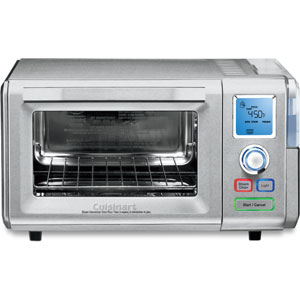 Steam and so much more with 9 cooking functions
With 9 cooking options, this is the only countertop oven you'll need. Steam Bake, Steam Broil, Proof Bread or simply warm up left-overs and make your morning toast. Easily select any of the 9 preset cooking functions using the selector dial & LCD display - it is that easy.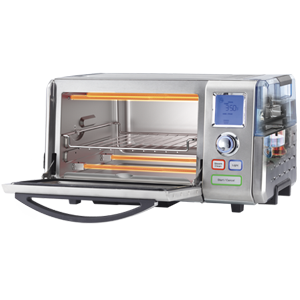 Reduce your cooking time by 40%
Prepare your favourite dishes 40% faster compared to conventional ovens with the 1800 watts of power. Use it in the summer to avoid heating up the house with a conventional oven, or use it as a second oven when entertaining.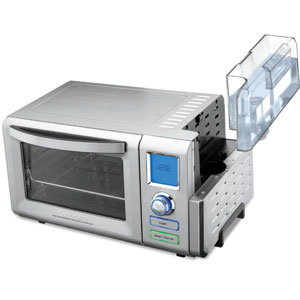 Steam on ... and on ...
Enjoy 2 hours of uninterrupted steaming with the generous 1.39 L water reservoir. Once done, clean up is easy with the Steam Clean function.
Compact, Sleek Design
This powerful, multi-functional unit takes up a small footprint in your kitchen thanks to its sleek compact design. With brushed stainless steel housing and a blue back lit digital display, its an attractive addition to any kitchen.