CompleteChef™ 18-Cup Cooking Food Processor
An innovative new spin on Cuisinart's iconic machine.
The CompleteChef™ brings you the ease and convenience of prepping and cooking all your ingredients in a single work bowl, with a precise temperature range that rivals your stovetop. From chopping, kneading, and slicing to sautéing, simmering and steaming, this ultra-versatile food processor does it all!
Turning The Art of Great Cooking into a Lifestyle
Julia Child, James Beard and Chuck Williams were among the first culinary experts to hail the food processor as a revolutionary kitchen appliance. When introduced to America in 1973 by the late Cuisinart founder, Carl Sontheimer, the food processor was celebrated as a quick, easy way to create the ultimate dishes. Over the years, Cuisinart's mission has been to help cooks "Savor the Good Life." Taking their legacy of innovation beyond the original food processors, the prestigious Cuisinart brand is dedicated to covering your entire kitchen. This full-service culinary resource simplifies prep and cooking by offering a wide array of state of the art products, favoured by chefs and home cooks alike.
200 Expertly Curated Recipes
Recipes include Rustic Potato and Fennel Tart, Veggie Empanadas, Cucumber Salad, Chili Verde, Pepperoni Pizza and Roasted Apricot Soufflé.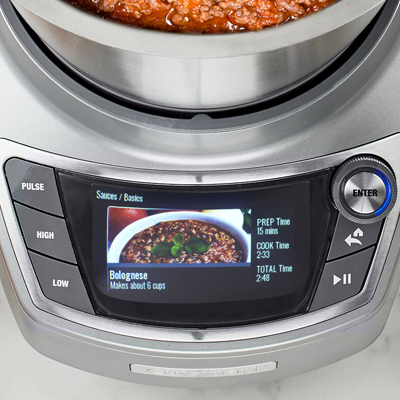 Interactive Hi-Res Screen
The interactive, full colour TFT touchscreen display operates in English, French and Spanish with adjustable brightness and sound, High-resolution TFT display offers an exceptionally clear view.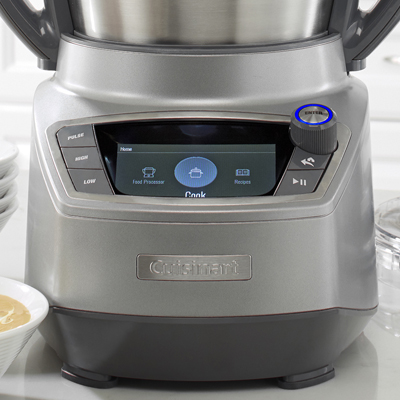 8 Cooking Programs
With 8 cooking programs, you can
SAUTE veggies,
SIMMER sauce,
STEAM vegetables,
SLOW COOK chili,
BRAISE salmon,
PROOF dough,
TEMPER chocolate, and cook risotto!
7 Convenient Prep Programs
Easily and effortlessly
CHOP veggies,
MIX batter,
PUREE soup,
SLICE onions,
SHRED cheese,
DICE beets or WHISK your favourite
sauces & creams!
12 Accessories Included
This innovative and versatile kitchen appliance includes a Slicing Disc, Shredding Disc, Chopping Blade, Dough Blade, Whisk, Stirring Paddle, Steam Basket, Funnel, Spatula & a Dicing Kit!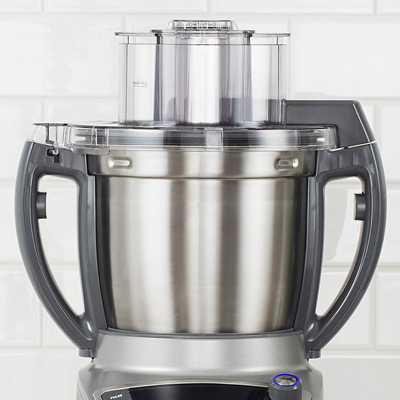 Extra-Large 18-Cup Work Bowl/Cooking Vessel with Two Handles
Now you can prep ingredients and cook them right in one large stainless steel work bowl. The Cuisinart CompleteChef™ Cooking Food Processor rivals a stovetop with a wide temperature range to cook all of your favourite dishes.