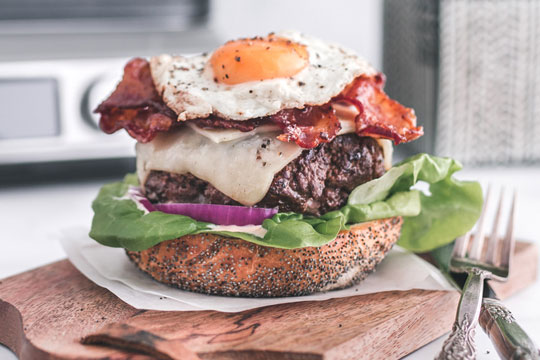 Ingredients:
500 gr ground beef AAA
2 Brioche rolls or your favourite burger bread buns
6 Slices of bacon
2 Tablespoon Maple syrup
4 Slices Swiss cheese
Red onion
Lettuce
2 Eggs
1 teaspoon of olive oil
Fine sea salt and black ground pepper
Mayonnaise:
1/3 cup Homemade mayonnaise or commercial
Sriracha sauce to taste
1 Tablespoon maple syrup
Finely chopped chipotle pepper to taste
Directions:
1. If you prefer your burger rare, allow the meat to temper at room temperature for about 45 minutes.
2. Make two patties with the meat. Season with fine sea salt and black ground pepper.
3. Turn on the Cuisinart Griddler. Select Grill and set to 400 Farenheit.
4. Once preheated, put the bacon slices on the grill plate and cook until cooked through. Remove majority of the cooking fat.
5. Add the maple syrup and glaze the slices.
6. Take off heat and set aside.
7. Cook the beef patties in the remaining bacon fat and maple syrup. Cook for about 3 minutes on each sides for a rare burger.
8. While cooking, mix all the ingredients together for your spicy mayo.
9. When the meat if almost cooked, put the buttered buns on the griddle plate face down. Cook until lightly crisped.
10. One minute before taking the meat off the grill, add two slices of cheese on top of each beef patties and let them melt.
11. While dressing your burgers, cook the eggs sunny-side up on the griddle plate with a teaspoon of olive oil.
12. When ready, top your burgers with the eggs and serve.