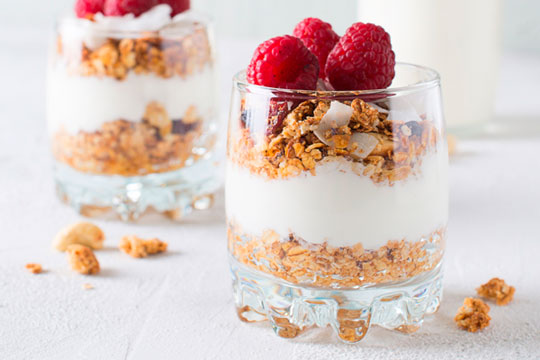 Crunchy Granola
Granola is an easy and healthy alternative to packaged cereals. Accompany this fragrant granola with a scoop of your favourite yogurt or fruit.
Ingredients:
1½ cups (375 ml) rolled oats (not quick cooking)
¾ cup (175 ml) raw nuts (pecans or pistachios work very well)
½ cup (125 ml) unsweetened coconut, shredded or flaked
¼ cup (60 ml) hulled sunflower seeds
¼ cup (60 ml) hulled pumpkin seeds (pepitas)
¼ cup (60 ml) coconut oil, melted
¼ cup (60 ml) pure maple syrup
½ teaspoon (2.5 ml) kosher salt
¼ teaspoon (1 ml) ground cinnamon
Pinch ground nutmeg
½ cup (125 ml) dried fruit (chopped if larger than berry-sized)
Directions:
1. Line the Baking Pan with aluminum foil or parchment paper; reserve..
2. In a large mixing bowl, combine all ingredients except for the dried fruit. Spread evenly on the prepared Baking Pan. Transfer the pan with the granola to the oven in rack Position 2. Set to Bake at 300°F (150°C) for 25 minutes. Cook until nicely toasted, stirring halfway through..
3. When the granola is ready, remove from oven, add the dried fruit and stir to combine..
4. Cool completely on Baking Pan. Transfer to an airtight container to store for up to 3 weeks.
Nutritional information per serving (½ cup [125 ml]): Calories 290 (54% from fat) • carb. 29g • pro. 6g • fat 18g • sat.