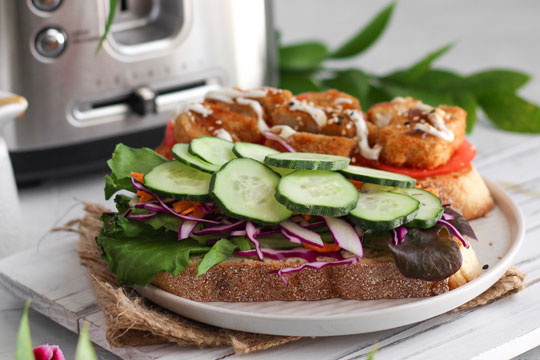 Ingredients:
2 slices of thick artisan bread
shredded red cabbage
shredded carrots
sliced cucumber
sliced tomato
lettuce
vegan mayo
4-5 vegan chicken nuggets (cook according to package directions)
Teriyaki sauce:
1/4 cup brown sugar packed
3 tbsp soy sauce
1 tbsp mirin
1/2 tsp garlic powder
1/2 tsp ground ginger
3 tsp cornstarch
1/4 tsp chili flakes
1 cup water
Directions:
To make the teriyaki sauce add all ingredients to a medium pot and bring to a boil, then simmer for 5 mins or until thickened a little. Set aside. Now to assemble your sandwiches first toast your slices of artisan bread in your Cuisinart Artisan Bread Toaster. Add lettuce, purple cabbage, carrots, cucumber, tomato, vegan chicken nuggets, mayo, teriyaki sauce and then top it was your second slice of toast. Drizzle with extra teriyaki sauce to serve. Enjoy!