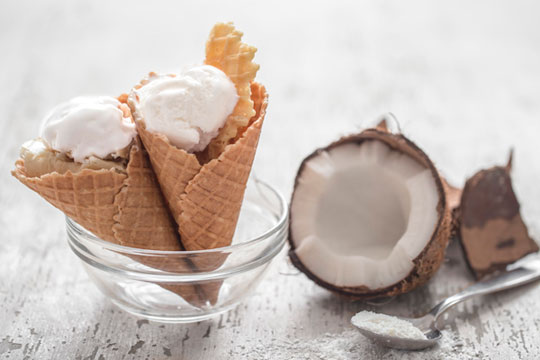 Coconut Cotton Candy Ice Cream
Beat the heat with this vegan dessert that's sure to please the whole family!

Recipe submitted by The Cake Mama
Ingredients:
2 Cans Coconut Milk, 13.5 oz
1/2 Cup Maple syrup
1/4 Tsp Salt
1 Tsp Cotton Candy flavoring oil
2 Tbsp Corn starch or 1 tsp arrowroot powder
Directions:
1. Ensure freezer bowl component of ice cream maker has been frozen for a minimum of 12-24 hours. The freezing liquid should not make any noise when shaken to ensure a full freeze.
2. Over medium low heat, add all but 1/2 c of full fat coconut milk.
3. Add maple syrup and salt and allow to warm (not boil) for 2 minutes.
4. In a separate bowl, mix cornstarch (or arrowroot powder) with ½ c of remaining coconut milk.
5. Add cornstarch mixture to sauce pan and turn heat to medium and continue to stir (about 6-8 minutes) until mixture coats the back of a spoon.
6. Remove from heat, transfer to a heat safe bowl, then add flavoring oil.
7. Allow to cool at room temperature for about 15 mins with plastic covering to avoid skin forming on the surface.
8. Chill in refrigerator until mixture is completely cold.
9. Time to churn! Place the freezer bowl onto the Cuisinart Gelateria console and insert the churning paddle and lid.
10. Turn on the ice cream maker and press the ice cream setting. Set the churning time to 20 minutes.
11. Open the ingredient spout and slowly pour the ice cream mixture. Allow to churn until mixture resembles soft serve.
12. Transfer contents of ice cream into a container and freeze for about 1 hour.
13. Serve and enjoy!