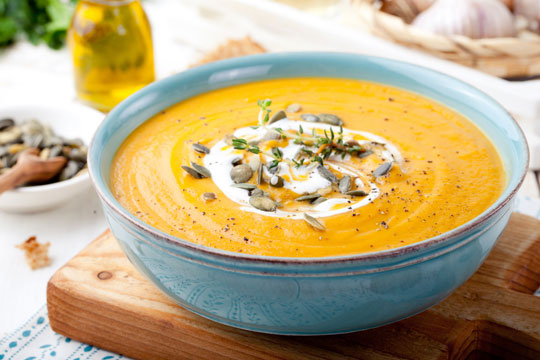 Ingredients:
3 Tbsp olive oil
1 medium onion diced
5 cups peeled & sliced carrots
2 cloves garlic finely chopped
1 piece of thumb sized fresh ginger peeled and chopped finely
1 tsp of ground turmeric
1/2 tsp ground nutmeg
Salt and pepper to taste
4 cups vegetable broth
1 canned coconut milk (save 2 tsp for topping at the end)
For garnish: fresh oregano, toasted pumpkin seeds, hemp hearts and 2 tsp of canned coconut milk.
Directions:
Heat olive oil over medium heat in a large pot.
Add in carrots, onion and cook until softened. Approx. 10 minutes.
Add in garlic, ginger, turmeric, nutmeg, salt and pepper to taste. Mix well together.
Turn up heat and add in the vegetable broth.
Bring to a boil, then reduce heat and simmer for about 20 minutes.
Remove from stove and add in one canned coconut milk (Approx. 8 ounces)
Carefully add mixture to your Cuisinart Hurricane Pro 3.5 Peak HP Blender in batches to blend. Be careful with hot liquids when blending and let some steam escape.
Serve in bowls and garnish with fresh oregano, toasted pumpkin seeds, sprinkle of hemp hearts and 2 tsp of leftover canned coconut milk.
Serve warm and enjoy!