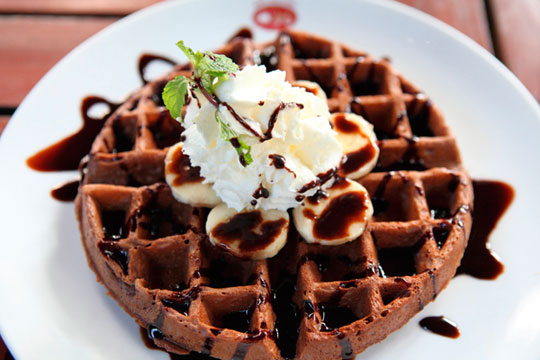 Chocolate Waffles
Servings:
Makes 6 waffles
Kids will love having chocolate for breakfast, but these waffles also make a delicious dessert when topped with whipped cream or ice cream and berries.
Ingredients:
2 cups (500 ml) unbleached, all-purpose flour
½ cup (125 ml) granulated sugar
2/3 cup (150 ml) unsweetened cocoa powder, sifted
2 teaspoons (10 ml) baking powder
½ teaspoon (2.5 ml) baking soda
½ teaspoon (2.5 ml) kosher salt
½ teaspoon (2.5 ml) ground cinnamon
2½ cups (625 ml) buttermilk
2 large eggs
1 teaspoon (5 ml) pure vanilla extract
1/3 cup (75 ml) vegetable oil
½ cup (125 ml) semisweet mini chocolate morsels
Directions:
1. Combine the flour, sugar, cocoa powder, baking powder, baking soda, salt and cinnamon in a large mixing bowl; whisk to blend. In either a large measuring cup or separate mixing bowl, combine the liquid ingredients and whisk to combine. Add to the dry ingredients and whisk until smooth. Fold in the morsels.
2. Preheat the waffle maker to desired setting (a tone will sound when preheated).
3. Pour a scant cup of batter through the top of the spout. When tone sounds, the waffle is ready. Carefully open the waffle maker and remove baked waffle. Close waffle maker and repeat with remaining batter. For best results, serve immediately.
Nutritional information per waffle:
Calories 503 (37% from fat) • carb. 69g • sugars 33g • pro. 12g • fat 21g • sat. fat 6g • chol. 66mg • sod. 523mg • calc. 129mg • fiber 3g