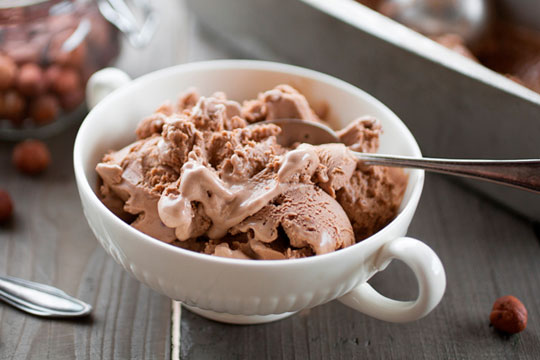 Chocolate Hazelnut Gelato
Servings:
Makes about 5 cups (1.25 L)
A standard in many gelateria, bring the flavours of Italy to your kitchen with this recipe.
Ingredients:
1 ¾ cups (425 ml) heavy cream
2 ¼ cups (550 ml) whole milk, divided
½ cup (125 ml) granulated sugar
2 tablespoons (30 ml) cornstarch
Pinch kosher salt
1 cup (250 ml) chocolate-hazelnut spread
1 ½ cup (125 ml) chopped hazelnuts
Directions:
1. In a medium saucepan, combine the cream and 1. cups (375 ml) of the milk. Set over medium/medium-low heat and bring to a simmer.
2. While cream/milk mixture is heating, put the remaining milk, sugar, cornstarch and salt into a small-medium mixing bowl. Whisk to combine.
3. Once cream/milk mixture comes to a simmer, add the milk/sugar mixture and stir until fully combined. Slowly whisk in the chocolate hazelnut spread. While still set over medium/medium-low heat, continuously stir until mixture comes to a strong simmer and thickens slightly so it just coats the back of a spoon (this will take no more than 20 minutes, depending on the stove being used).
4. Remove pan from heat, strain and cool to room temperature. Cover and refrigerate at least 2 hours, or overnight. Whisk mixture together again, before pouring into the ice cream maker.
5. Press Gelato and then Start/Stop. Pour the mixture through the spout and then cover with the cap. Let mix until thickened. When the gelato is almost fully churned, gradually add the hazelnuts. Allow to mix thoroughly. The gelato will have a soft, creamy texture. If a firmer consistency is desired, transfer the gelato to an airtight container and place in freezer for about 2 hours. Remove from freezer about 15 minutes before serving.
Nutritional information per serving [based on ó cup (125 ml)]:
Calories 403 (65% from fat) • carb. 30g • pro. 5g • fat 30g • sat. fat 13g • chol. 65mg • sod. 71mg • calc. 136mg • fiber 3g