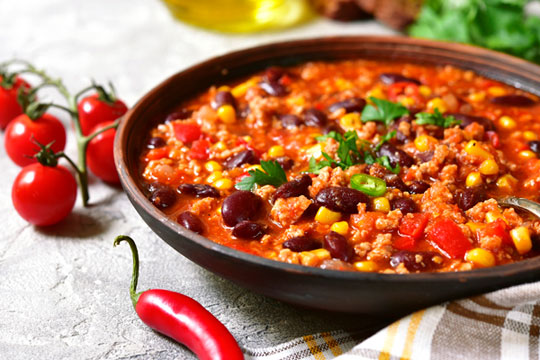 Chili
Kids love chili and it's a versatile dish. You can serve it on hot dogs, fill tacos with it or eat it plain. This one freezes well for about 6 months, so make it in batches.
Ingredients:
4 garlic cloves
2 medium onions, quartered
2 pounds (907 g) boneless beef chuck, chilled
3 teaspoons (15 ml) cumin seeds
4 tablespoons (60 ml) vegetable oil
4 tablespoons (60 ml) chili powder
4 tablespoons (60 ml) paprika
1½ teaspoons (7.5 ml) kosher salt
1⁄4 teaspoon (1 ml) crushed red pepper
2 cans (8 ounces [227 g] each) whole tomatoes
2 cups (500 ml) water
4 cups (1 L) red kidney beans
Suggested garnishes – see end of recipe
Directions:
Insert metal blade. Put garlic and onion into the work bowl. Process until finely chopped, about 15 seconds. Remove and reserve. Trim beef of all fat and cut it into 1-inch (2.5 cm) cubes. Process until coarsely chopped, about 10 to 12 pulses.
Brown cumin seeds in saucepot over medium heat. Shake pan constantly and cook until cumin begins to smoke, about 1 minute. Remove and reserve.
Heat vegetable oil in same saucepot over medium heat. Add garlic and onions and cook for 2 minutes. Add beef and cook, stirring often, until no pink colour remains, about 5 minutes.
Reduce heat to low, stir in cumin, chili powder, paprika, salt and red pepper, and cook uncovered for 5 minutes, stirring occasionally.
Use metal blade to coarsely chop tomatoes, pulsing 4 to 5 times. Add to saucepot with water and bring to boil. Reduce heat and simmer, partially covered over medium-low heat for 45 minutes, stirring occasionally. Stir in the beans and cook until heated through. Taste and add salt, if needed.
Try some of these garnishes with the chili: shredded Cheddar or Monterey Jack cheese, shredded lettuce, sliced jalapeño peppers, sliced scallions, sliced black olives, chopped tomato or chopped avocado.
Nutritional information per serving: Calories 273 (34% from fat) • carb. 29g • pro. 33g • fat 14g • sat. fat 4g • chol. 68mg • sod. 1119mg • calc. 81mg • fiber 11g