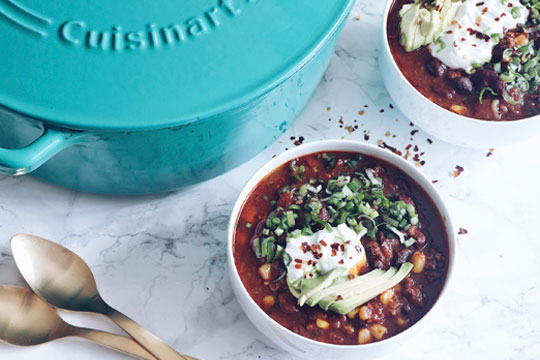 Chili
Recipe submitted by: Jen Zigizmund
Ingredients:
olive oil
1 onion
2 garlic cloves
1 pound extra lean beef
4 tablespoons chili powder
2 teaspoons ground cumin
1 teaspoon dried oregano
1/2 teaspoon salt, plus more to taste
1 (28-oz) can diced tomatoes
1 1/4 cups beef or vegetable broth
2 (15 oz) cans red kidney beans, rinsed and drained
2 cups of frozen corn
Toppings - avocado, green onions, sour cream or Greek yogurt
Directions:
Chop and mince garlic and onion. Heat few tablespoons of olive oil in a casserole pot over medium heat. Add onion and garlic and cook for 5 minutes, stirring every minute or so. Add ground beef, break up to small pieces. Cook until no longer pink. Mix In all the spices well and stir for 1 minute. Add diced tomatoes, broth, then beans and corn and bring to boil. Reduce heat to medium / low and simmer for 45 minutes. Add more salt if needed, and garnish with your favourite toppings!