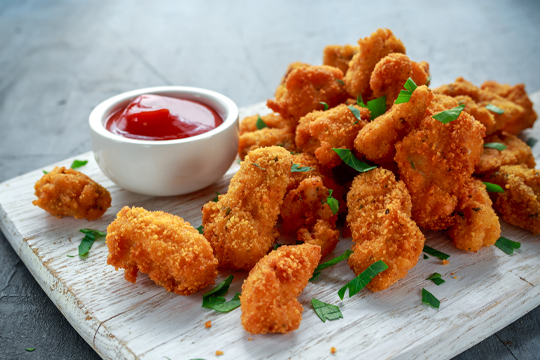 Chicken Nuggets
Kids of all ages will love this homemade version of the frozen standby.

Function: AirFry

Makes about 4 servings
Ingredients:
¾ cup (175 ml) unbleached, all-purpose flour
2 large eggs, lightly beaten
1½ cups (375 ml) panko breadcrumbs
¾ teaspoon (3.75 ml) kosher salt, divided
¾ teaspoon (3.75 ml) freshly ground black pepper, divided
1 pound (454 g) boneless, skinless chicken breast or thighs, pounded even and cut into 1½-inch (3.75 cm) pieces
Olive oil, for spraying
Nonstick cooking spray
Directions:
1. Place the AirFry Basket onto the AirFry Pan and coat with nonstick spray. Reserve.
2. Put the flour, eggs and panko into individual containers large enough for dipping the chicken. Add a pinch each of the salt and pepper to the panko; stir to combine.
3. Sprinkle the chicken evenly on both sides with the remaining salt and pepper. Dredge each chicken piece in the flour and shake off the excess before dipping into egg, and then finally coating evenly with the panko breadcrumbs. Spray both sides with olive oil. Arrange half of the chicken nuggets into the prepared basket in one layer.
4. Place in the Cuisinart 3-in-1 Microwave AirFryer Oven. Select Oven/AirFry and set the temperature and time to 400°F (200°C) for 15 minutes. Pause to flip chicken nuggets halfway through. Chicken nuggets are done when cooked through and golden brown on both sides. Repeat with remaining chicken nuggets.
5. Serve immediately.
Nutritional information per serving (based on 4 servings):
Calories 191 (22% from fat) • carb. 32g • pro. 5g • fat 5g • sat. fat 1g • chol. 0mg • sod. 434mg • calc. 1mg • fiber 1g