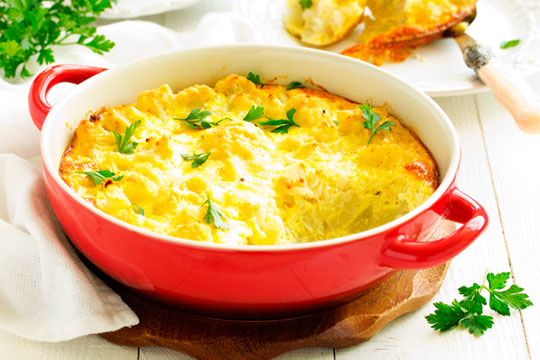 Cauliflower (No Mac) and Cheese
Ingredients:
1 Cauliflower – trimmed into bite-size florets
500g Aged Cheddar – shredded
1L Whole Milk
1 tbsp. (15ml) Dijon Mustard
1 tsp. (4ml) Fresh Ground Nutmeg
75g Unsalted Butter
75g Unbleached All Purpose Flour
1 cup (250ml) Panko Bread Crumbs
8 Strips Bacon
Flaked Sea Salt to taste
Fresh Ground Black Pepper to taste
Directions:
Adjust the rack to position 2 in the Chef's Convection Countertop Oven.
Preheat the oven by selecting dual cook, first set to bake at 350°F (180°C) for 15 minutes
Then set to broil at 500°F (260°C) for 3 minutes
Line the baking pan with parchment or aluminum foil, arrange bacon without overlapping
Bake until lightly crisp, drain excess fat, slice into bite size pieces
Blanche cauliflower in boiling, salted water until just tender, approximately 5 minutes
Submerge in cold water to stop cooking, strain and fill casserole dish, add bacon
Add butter to a saucepan over medium-high heat until lightly browned
Whisk flour and nutmeg, continue to cook for 2 minutes
Combine mustard and milk, continue to heat without boiling
Fold in cheese whisking until smooth, season with salt and pepper
Pour cheese mixture over cauliflower, turning to coat, top with panko, season with salt and pepper
Select dual cook, first bake at 350°F (180°C) for 30 minutes, and then broil at 500°F (260°C) for 5 minutes
Press speed convection, then start, to begin baking until lightly browned and crispy