"O CANADA"
Celebrate Canada's Birthday with these incredible deals. Receive Free Shipping when you spend $75.
Griddler Five
Item# GR-5BC
Meet one of the most versatile Griddlers on the market, equipped with reversible plates and a floating cover. Turn this single appliance into a grill, griddle, contact grill and panini press! You can even position plates to do half grill/half griddle! The digital display makes it easy to program options and monitor timing. Additionally, you can purchase Waffle Plates to bake deep-pocketed Belgian waffles!
$179.99 | $139.99
Pure Indulgence Frozen Yogurt-Sorbet & Ice Cream Maker
Item# ICE-30WNC
Cool off with a rich homemade ice cream sundae or a fruity sorbet - ready in 25 minutes or less. The Cuisinart Pure Indulgence Frozen Yogurt-Ice Cream and Sorbet Maker delivers 2 quarts (1.9 L) of fast, fabulous, frozen desserts, perfect for a family dinner or a friendly party - each one guarantees a sweet ending!
$139.99 | $109.99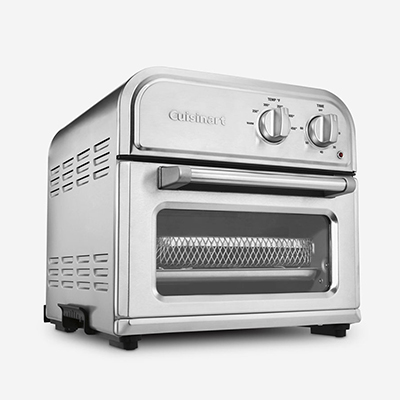 Compact AirFryer
Item# AFR-25C
Now anyone can enjoy crispy, flavourful fried foods without the guilt! This high-efficiency unit ensures golden brown results and air-fries a wide variety of foods with minimal noise and maximum ease. Simple to use - turn one knob to regulate the temperature, and the other to set the timer. Designed with a spacious, non-stick interior and stylish stainless steel, the Cuisinart AirFryer is easy to clean and complements any kitchen decor.
$199.99 | $159.99
Precision Master 3.5 QT (3.3L) Stand Mixer
Item# SM-35RC
Don't be fooled by the word "petite." The Cuisinart Precision Master Petite Stand Mixer has the capacity, power, and precision engineering to handle almost any job a recipe calls for. Three accessories allow you to mix, whip, knead dough and more – and with 12 speeds the results are always just right. Cuisinart offers optional attachments (MG-50C, PRS-50C, PE-50C & SPI-50C) for purchase. These connect to the port on the front of the mixer to let you make a variety of homemade pastas or grind your own meats.
$299.99 | $229.99
Belgian Waffle Maker
Item# WAF-320C
The unique 180° rotary feature of this heavy-duty waffle maker ensures consistent baking and even browning. The result is a perfect, large, round, restaurant-style Belgian Waffle with extra deep pockets. A 6-setting browning control, LED indicators and audio signals ensure foolproof performance, waffle after waffle.
$99.99 | $79.99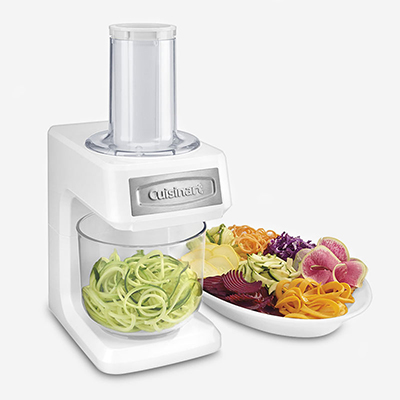 PrepExpress Slicer/Shredder/Spiralizer
Item# SSL-100EC
Cuisinart continues to simplify food prep with the new PrepExpress Slicer/Shredder/Spiralizer. Now it's easier than ever to make fresh fruits and vegetables part of everyday meals that even kids will love. This 3-in-1 kitchen helper lets you effortlessly create wide ribbons or crinkle-cut spirals of fresh zucchini and apples, and thin or wide butternut squash or beet "spaghetti." Slice cucumbers for salads, waffle cut potatoes for chips, and create thick or thin shreds of veggies for fajitas. Cuisinart makes it easy for everyone to eat healthy!
$99.99 | $79.99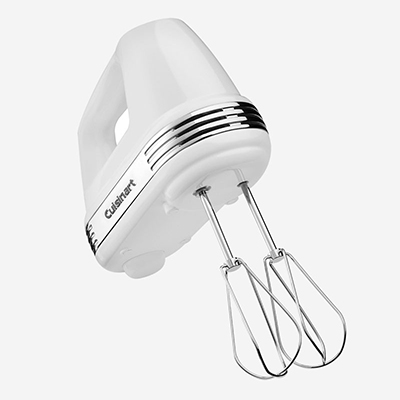 Power Advantage 5-Speed Hand Mixer
Item# HM-50C
The Cuisinart Power Advantage 5-Speed Hand Mixer, flawlessly and easily mixes even the heaviest ingredients. From dense cookie dough to whipped cream, the powerful motor with automatic feedback can perform any mixing task. And the slide control easily shifts speeds with just one touch!
$59.99 | $44.99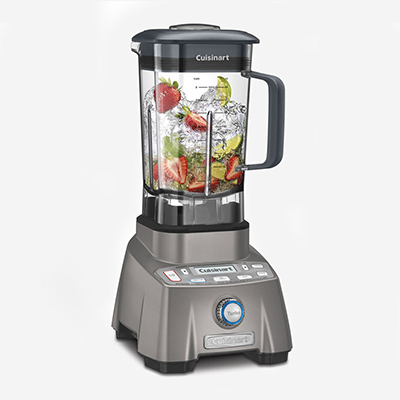 Hurricane Pro 3.5 Peak HP Blender
Item# CBT-2000C
Introducing our most powerful blender ever. The Hurricane Pro has a commercially rated 3.5 Peak HP motor and professional features that let it outperform every blender in its class. Innovative BlendLogix technology ensures consistent blending speeds regardless of density or volume of ingredients, and the memory function lets users adjust preset times, then remembers the new settings. A variable speed control (1,500RPM to 25,000RPM), a 30,000RPM Turbo Boost feature, and the 6-prong stainless steel blade ensure everything that goes into the extra-large, 64-ounce, BPA-free Tritan jar is blended to perfection.
$499.99 | $399.99
600-Watt Velocity Blender
Item# CBT-600GMEC
Blend smoothies, sauces, and soups with the Cuisinart VELOCITY 600 Watt Blender. Our premium power blender features patented stainless steel blades and a large BPA-free plastic jar to make entertaining easy. Take control of your cooking with options to Blend at Low and High speeds or Pulse!
$119.99 | $89.99
Classic Bar Blender
Item# CBB-550RC
The Cuisinart Classic Bar Blender provides effortless blending, puréeing and liquefying capabilities. The high-performance motor is powerful enough to crush ice like the pros, right on your wet bar, dry bar, or kitchen counter. The powerful 750 peak watt motor and ultra-sharp stainless blades quickly and easily crush ice and turn fruits and veggies into juices and smoothies. Designed for simple operation, it offers two speeds controlled by a one-touch toggle switch. When blending's done, the machine is a snap to clean – the sturdy zinc base wipes clean and the removable parts are dishwasher safe.
$219.99 | $197.99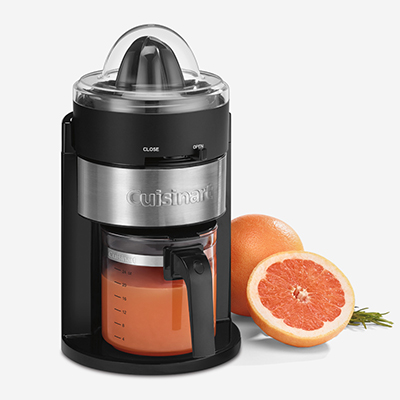 Citrus Juicer with Glass Carafe
Item# CCJ-900C
Engineered for optimal versatility and convenience; this first-of-its-kind unit provides the option to juice directly into an integrated 22-oz. carafe or a single-serve drinking glass. The universal juicing cone quickly turns any citrus fruit, from small limes to large grapefruits, into fresh, delicious juice. Three pulp settings and a cover-activated Final-Spin feature ensure users get the most juice with just the right amount of pulp. Carafe includes a lid that shuts securely for easy refrigerator storage.
$79.99 | $59.99
Tazzaccino Milk Frother
Item# FR-10C
Cuisinart Tazzaccino froths hot or cold milk perfectly, and warms milk fast. Powerful, with an easy-clean nonstick interior, this versatile machine comes with two stirring devices: a whisk for frothing and a stirrer for heating up milk. The unit creates professional-style foam for cappuccinos and lattes, and heats milk for hot chocolate and more - in seconds!
$119.99 | $99.99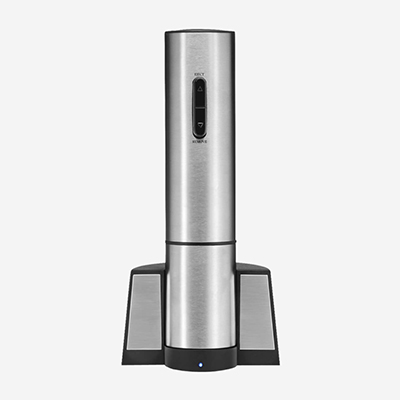 Electric Wine Opener
Item# CWO-50C
Our electric Wine Opener is convenient, easy to operate and elegant. Open a favourite bottle to make a dinner for two special, or open and enjoy a variety of wines with family and friends. Cuisinart makes it easy.
$44.99 | $34.99