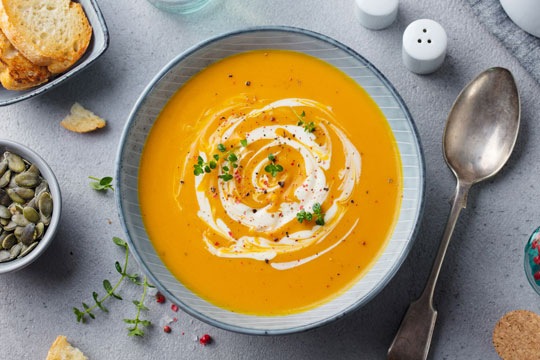 Ingredients:
2 tablespoons unsalted butter
1 butternut squash, peeled and cut into 1-inch cubes
2 apples, peeled and cut into 1-inch cubes
½ cup thinly sliced shallots
3 cloves of garlic, peeled and chopped
½ teaspoon salt
½ teaspoon freshly ground black pepper
¼ tablespoon freshly grated nutmeg
6 cups vegetable broth
1 cup olive oil, divided
6 fresh sage leaves
6 tablespoons Greek yogurt
Directions:
Melt the unsalted butter in the 6 Qt. Dutch Oven, on medium-low heat.
Add the butternut squash, apple, shallots, garlic, salt, black pepper, nutmeg and continue to cook for 10-minutes, stir frequently.
Add vegetable broth and ½ cup olive oil, just enough to cover the butternut squash (if more liquid is required, add water).
Increase heat to medium-high and bring the soup to a boil.
Reduce heat to low and simmer partially covered for 30-minutes, until butternut squash is tender.
Cool slightly and blend using either a blender or food processor. Return to the 6 Qt. Dutch oven and simmer.
Add the remaining ½ cup olive oil to the 2 Qt. Sauté Pan, over high heat.
Add the sage leaves and fry, until crispy. Remove and place onto a paper towel.
Whisk the Greek yogurt into the olive oil until fully combined.
Drizzle soup with infused sage-oil yogurt and garnish with sage leaf.