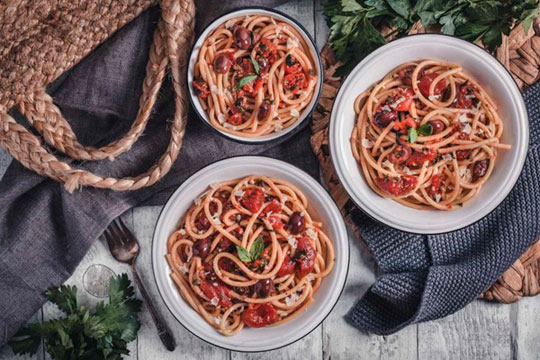 Ingredients:
450 gr Bucatini pasta
¼ cup olive oil
4 anchovy fillets finely chopped
5 cloves of garlic finely chopped
1 can whole Italian tomatoes 796 ml
1/3 cup fresh Italian parsley chopped
25 kalamata olives pitted and cut in two
2 tbsp capers finely chopped
1 tsp dry oregano
1 tbsp brown sugar
½ tsp crushed red pepper flakes
2 tbsp fresh basil roughly chopped
Grated Parmesan for topping
Fine sea salt and ground black pepper
Directions:
1. In a medium-large skillet, warm the olive oil at medium-low heat, add the garlic and the anchovies. Cook and stir for about 1 minute.
2. Add Italian tomatoes into a food mill and puree. Stir and add the parsley, Kalamata olives, capers, oregano, brown sugar and the red pepper flakes. Season with fine sea salt and black ground pepper.
3. Stir occasionally and let simmer slowly, uncovered at low heat for about 20 to 30 minutes.
4. In a large pot, bring water to boil with a little amount of olive oil and cook the Bucatini al dente. Drain the pasta and return into the pot.
5. Season with a pinch of salt, and drizzle olive oil into the pasta.
6. Pour the pasta into the skillet with the tomato sauce, add the fresh basil and stir to combine.
7. Sprinkle with grated Parmesan.