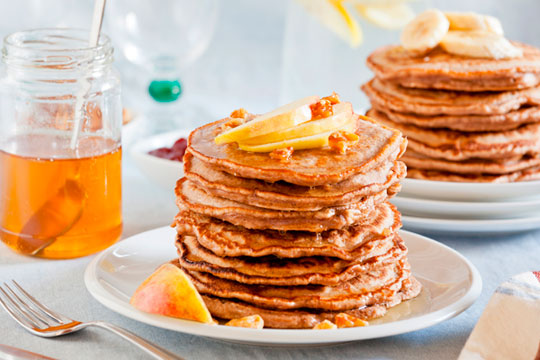 Apple Pancakes
Servings:
24 silver dollar pancakes
These pancakes will be a favourite breakfast treat.
Ingredients:
1 cup (250 ml) whole wheat flour
1 teaspoon (5ml) baking powder
½ teaspoon (2ml) baking soda
½ teaspoon (2ml) ground cinnamon
¼ teaspoon (1ml) salt
¼ cup (60ml) apple purée
1 tablespoon (15ml) pure maple syrup
1 large egg
¾ cup (175ml) plus 2 tablespoons (30ml) whole milk (low fat or nondairy may be substituted)
2 tablespoons (30ml) unsalted butter, melted
1 tablespoon (15ml) unsalted butter for cooking pancakes
Directions:
Stir the flour, baking powder, baking soda, cinnamon and salt together in a small bowl.
Put the apple purée, maple syrup, egg, milk and butter into the 2-in1 Baby Food Maker and Bottle Warmer with the steam blade. Process the ingredients on chop for about 5 seconds.
Sprinkle the dry ingredients evenly over the wet ingredients in the work bowl. Pulse on chop until ingredients are just combined, about 5 pulses.
Put the remaining butter in a large nonstick skillet and place over medium heat. Once butter melts add the batter into the hot skillet, one tablespoon (15ml) per pancake, to make silver dollar pancakes.
Cook pancakes about 2 minutes on the first side and 1 minute the second.
Nutritional information per pancake:
Calories 37 (37% from fat) • carb. 5g • pro. 1g • fat 2g • sat. fat 1g • chol. 11mg • sod. 39mg • calc. 21mg • fiber 1g