At home and spending more time in the kitchen?
From slow-simmering stews, braised short ribs, pasta from scratch, chocolate chip cookies, fresh loaves of bread - we have you covered! Receive Free Shipping when you spend $75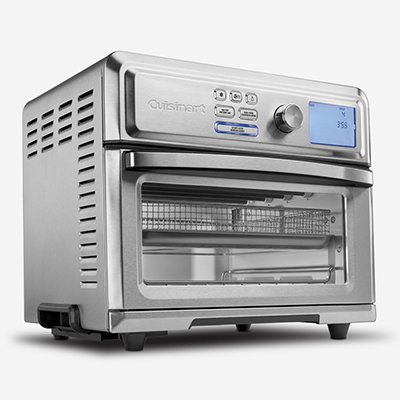 Digital AirFryer Toaster Oven
Item# TOA-65C
Cuisinart makes AirFrying easier than ever, with presets to perfectly fry favourites like wings, fries, chicken nuggets, snacks and veggies. Frying with air instead of oil is delicious and guilt-free, and this large capacity oven fries up to 3 lb. at once. It also offers all the great features of a full-size toaster oven. And that's not all! Unique to the Cuisinart Digital AirFryer Toaster Oven is a range of low temperatures that lets users proof dough, dehydrate foods and more, taking multifunctionality to a whole new level. With the large digital display and intuitive programming options, selecting presets, temperature, time, and function has never been easier.
$399.99 | $299.99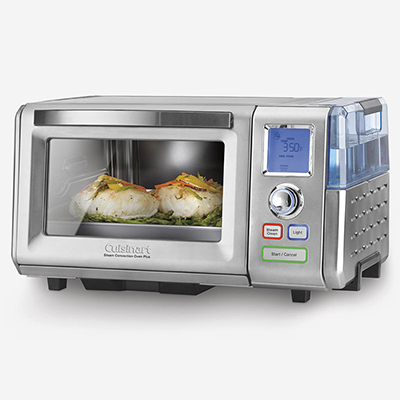 Combo Steam + Convection Oven
Item# CSO-300N1C
Create beautifully browned roasts on the outside and moist, juicy on the inside, proof loaves of bread, homemade pretzels and even donuts. The Steam Oven is truly a unique oven that incorporates all the functions of a professional steam oven in a countertop footprint. It's a countertop convection oven with full steaming capability. Steam heat cuts cooking time up to 40%, bake faster, with bakery-quality results!
$359.99 | $279.99
Elemental 13-Cup Food Processor
Item# FP-13SVC
Tackle food prep tasks, both large and small, with the Cuisinart Elemental 13-Cup Food Processor. The 13-Cup work bowl easily handles more substantial quantities of ingredients, making it perfect for big family meals – the bonus 4.5-cup bowl is ideal for smaller amounts. Two stainless steel blades and two discs make quick work of chopping nuts, pureeing soup, slicing tomatoes, shredding cheese and more. Also included is an accessory case for easy and secure storage.
$249.99 | $199.99
Precision Master 3.5 QT (3.3L) Stand Mixer
Item# SM-35RC
Don't be fooled by the word "petite." The Cuisinart Precision Master Petite Stand Mixer has the capacity, power, and precision engineering to handle almost any job a recipe calls for. Three accessories allow you to mix, whip, knead dough and more – and with 12 speeds the results are always just right. Cuisinart offers optional attachments (MG-50C, PRS-50C, PE-50C & SPI-50C) for purchase. These connect to the port on the front of the mixer to let you make a variety of homemade pastas or grind your own meats.
$299.99 | $229.99
Griddler FIVE
Item# GR-5BC
From grilling veggies, burgers to making pancakes, meet one of the most versatile appliances in your kitchen. Designed with reversible plates and a floating cover, turn this single appliance into a grill, griddle, contact grill and panini press!
$179.99 | $149.99
Vertical Waffle Maker
Item# WAF-V100C
Whether your serving breakfast or brunch, get creative and show off your culinary skills. Just add your favourite batter through the spout, wait for the beep sound and top with your sweet or savoury toppings.
$99.99 | $79.99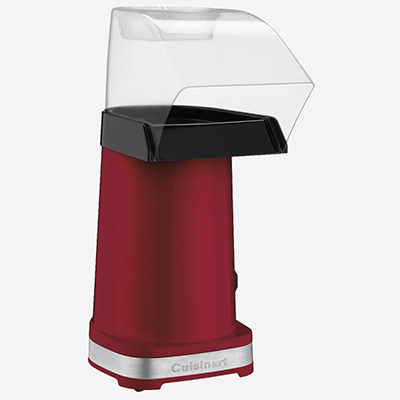 EasyPop Hot Air Popcorn Maker
Item# CPM-100EC
Pop healthier popcorn with hot air, in less than 3 minutes! The Cuisinart EasyPop Hot Air Popcorn Maker is exceptionally easy to use. Kernels go into a popping chamber - no oil is required, and hot air sends up to 10-Cups of popcorn up and out the chute right into a waiting bowl.
$59.99 | $49.99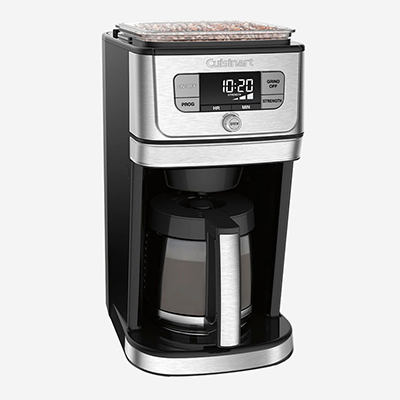 Fully Automatic 12-Cup Burr Grind & Brew Coffeemaker
Item# DGB-800C
Wake up to delicious, freshly ground, freshly brewed coffee! This coffeemaker features an integrated vertical burr mill grinder that automatically grinds whole beans just before coffee's brewed for the freshest flavour. Auto rinse technology automatically self-cleans the coffee ground outlet and the strength control feature lets you customize your coffee by choosing strong, medium or mild brew to suit your taste.
$299.99 | $249.99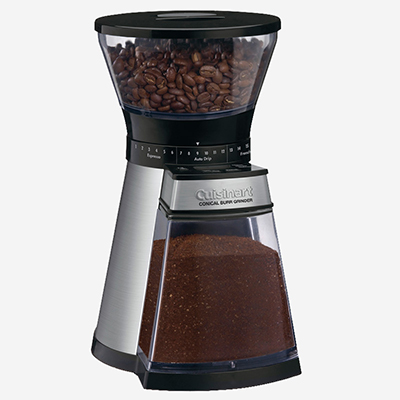 Programmable Conical Burr Mill
Item# CBM-18C
Grind coffee beans on-demand, from extra coarse for your French Press to extra fine for rich Espresso. The conical burr grinder produces a uniform grind without sacrificing the natural oils of your coffee beans for rich, flavourful results.
$139.99 | $119.99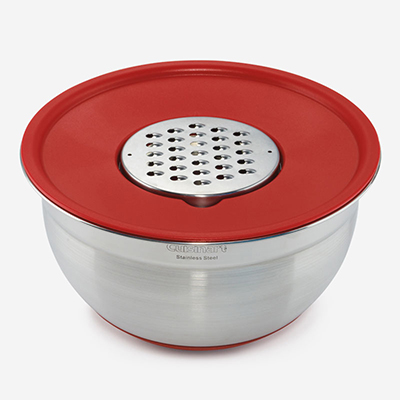 Multi-Prep Bowl
Item# CTG-00-MBGRC
An all-in-one prep tool every kitchen must-have! One Bowl from Start to Finish - Mix, Grate, Shred, Slice!
$59.99 | $47.99
14" x 20" Acacia Wood Cutting Board
Item# CBAW-1420C
This Acacia Wood Cutting Board is exceptionally durable, and it's equipped with non-slip rubber feet to secure the board from sliding when chopping or dicing foods.
$149.99 | $109.99